Style & Grace, Vol. 02, 'Elegant Simplicity'
Musings on 'Elegant Simplicity' with Lifestyle Influencer, Kimberly Denis
Style & Grace Vol. 02 'Elegant Simplicity'
---
The world of Instagram — a platform where it's becoming increasingly more and more difficult to stand out amongst other influencers and content creators — can be a very competitive place to be in. More than ever, finding your own unique voice is crucial to connect with your audience and maintain your relevance.
For Kimberly Denis, mostly known as @beurl on Instagram, staying true to herself and focusing on authenticity allows her distinctive content to really shine through.
Kimberly (@beurl) finds elegance in the simple things
From the soft, muted lighting in her photographs to her personal sense of style, Kimberly is all about exuding elegant simplicity. A quick glance at her Instagram feed shows scenic shots showcasing the best of travel and nature, alongside effortlessly chic outfits that you can't help but want to emulate. She also frequently gives out stylish home decorating tips, which for her amounts to "capture the different details and textures you can find in a house, I feel like it's a moment for me to relax and create."
Though a Québec native, Kimberly grew up next to a lake. With a part of her Instagram bio reading: "the simpler, the better," her connection to nature and her upbringing is reflective in her preference of earthy tones and neutral palettes, evident not just in the little corners of her home that she regularly shares with her followers, but also her wardrobe choices.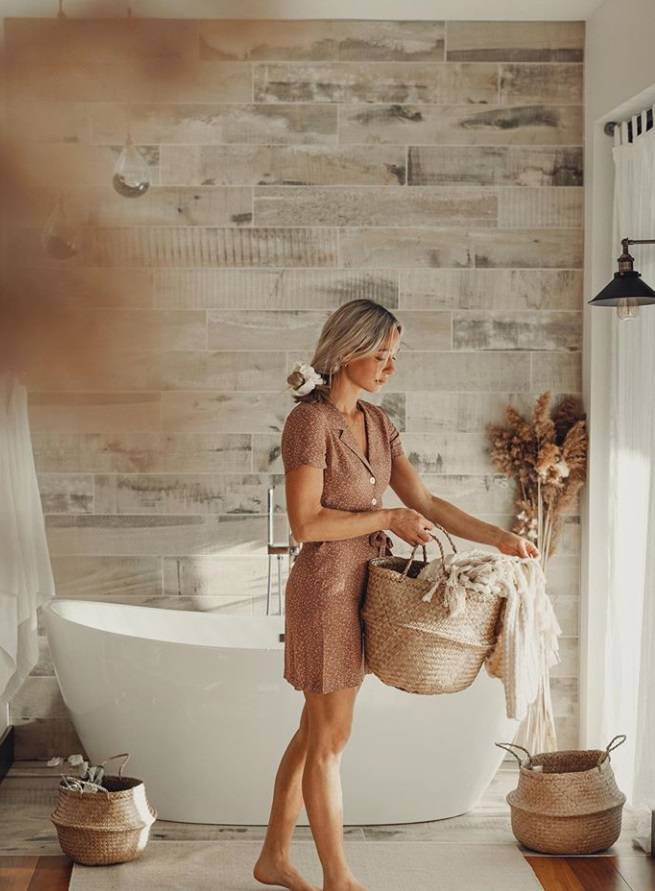 Describing her personal style as "simple and natural," she reveals that she has a penchant for natural fabrics and quality materials. She especially loves the brand Yöli and Otis and looks up to the style of Olivia Rose Cooke, though Kimberly's personal style is just as envy-worthy. You can usually find her clad in floaty linen dresses, breezy tops, statement hats, cozy knits and easy separates that look just as home in the city or in the countryside, where she is currently building her dream home with her boyfriend and business partner, Simon Cote.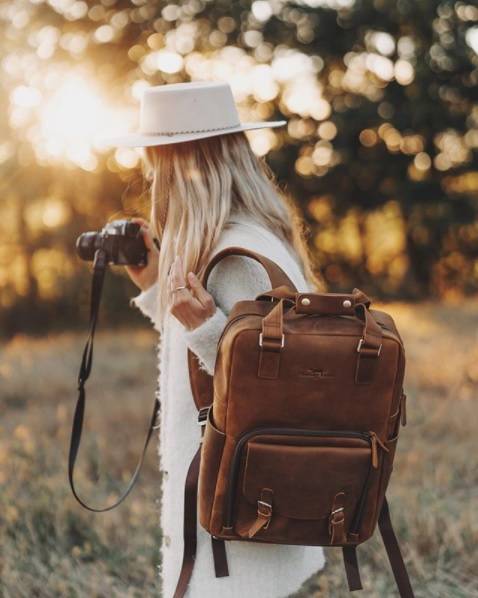 As well as being a full-time content creator, Kimberly also manages Charles Henri, a leather goods label started by her and Simon. The idea for Charles Henri — named after their adorable red cat — began after they had leather handbags made by a local artisan in Indonesia. Amazed by the remarkable quality and craftmanship, they decide to create their own line of travel-friendly leather bags that adhered to their tastes and expectations. Made for everyday adventures and travel needs, the bags range from the Tote, a personal favourite of Kimberly's that she describes as "a classic and minimalist design," to leather camera bags that combine style and functionality.
Being an entrepreneur for her own brand and creating content for others didn't happen overnight. "I never said to myself: I'll be a content creator. One day, I had enough contracts to make this passion a job," Kimberly recalls. Besides her genuine love of nature, she credits authenticity as the main inspiration behind her content: "True moments versus staged moments… I feel like when there are true emotions or events, I feel a lot more inspired to capture some memories." Understanding how to navigate the saturated and tricky waters of Instagram is also key to the success of her personal brand. "I feel like I'm really close to my values and I'll stick to it no matter what. Sharing the simplicity that can be found in everyday life is important to me," she emphasizes.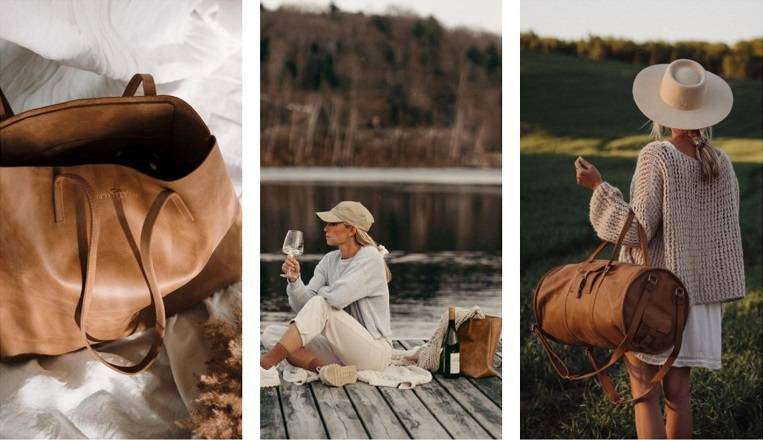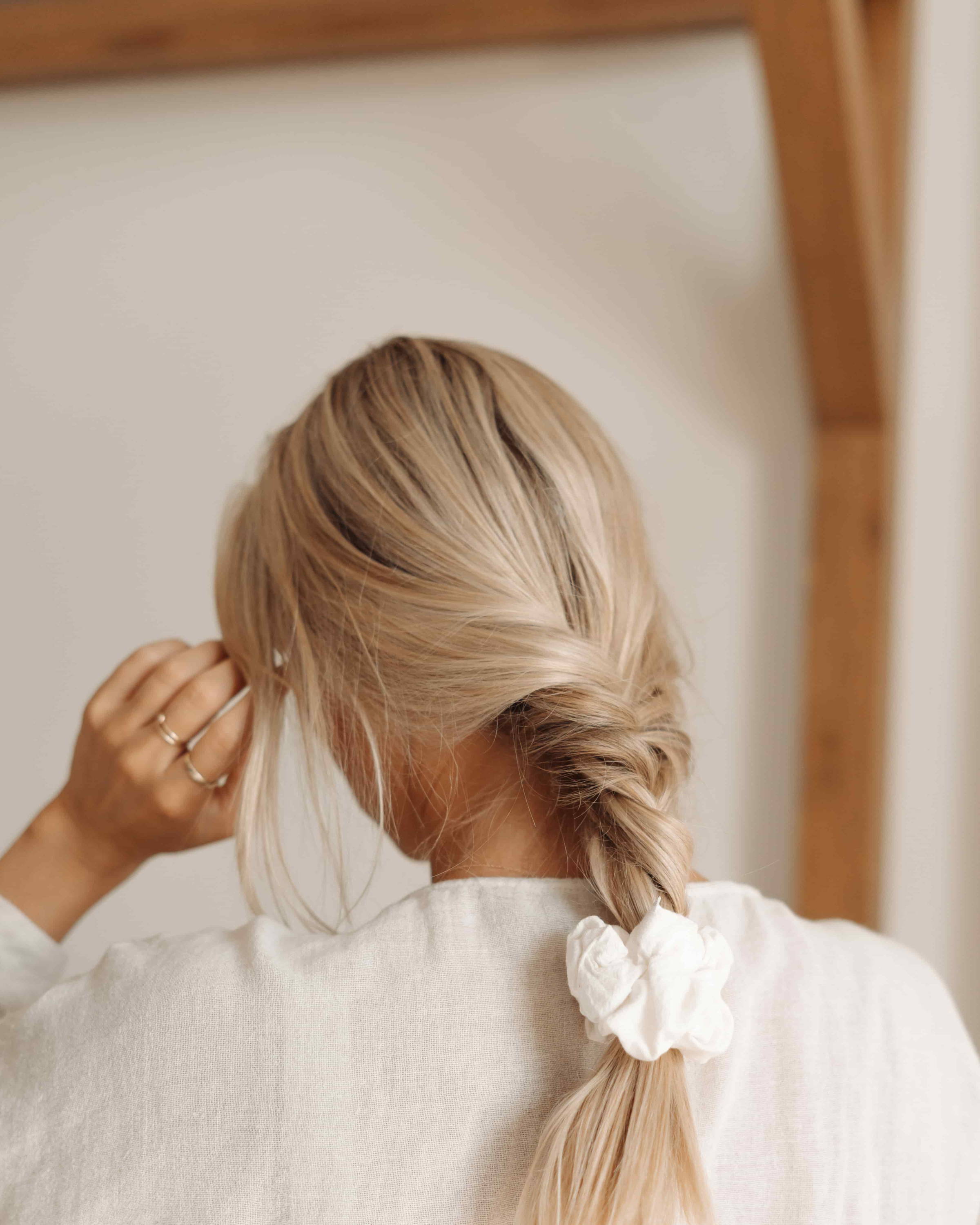 Another thing that stands out when you scroll through Kimberly's Instagram feed is her striking blonde hair. Whether it's down in beachy waves or styled in a loosely braided ponytail, her hairstyles always look as equally great as her outfits. When asked about hair care secrets that she wants to share, she is glad to give some tips: "I never use a hair-dryer and don't really use irons often. I always use a nutritive treatment after my shower (when my hair is still a little wet). And maybe it's not a real trick, but the water of the lake where I've been raised makes my hair so soft! I love the effect in the summertime!"
Kimberly mentions Chelsea King scrunchies as some of her go-to hair accessories: "I feel like I've been wearing Chelsea King scrunchies for over a year now, maybe two, and the quality is very impressive. I love to wear fabric and products that will last for a long time, and that's what I love about your products, they are durable." As an owner of small businesses, Kimberly also understands firsthand how important it is to stay grounded. "I feel that we have similar values in terms of leading our businesses and it's really important to me," she says. "I wear Chelsea King scrunchies all the time so it's a natural fit to work together!"
I wear Chelsea King scrunchies all the time so it's a natural fit to work together!" 
---
Kimberly's collaboration with Chelsea King includes sets of Classic, Petite, and CK Thin scrunchies. These are made from an organic cotton crepe fabric and are available in Ivory (Ivoire) and Oat (Avoine).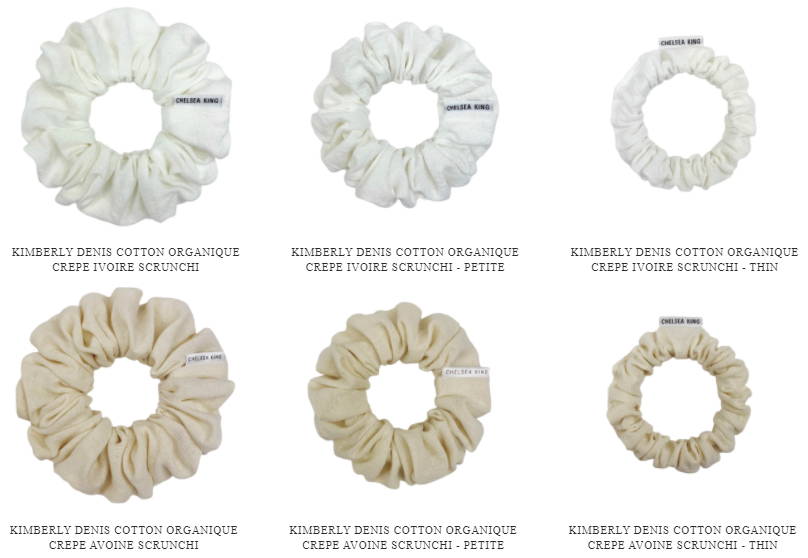 Stay updated with Kimberly's styling tips and other inspiring content on Instagram at @beurl and browse her handbag line at www.charleshenri.co.
---