Style & Grace, vol. 01, 'Minimalist Chic'
A Lesson In 'Minimalist Chic' with Style Expert,
Nesrine Brikci-Nigassa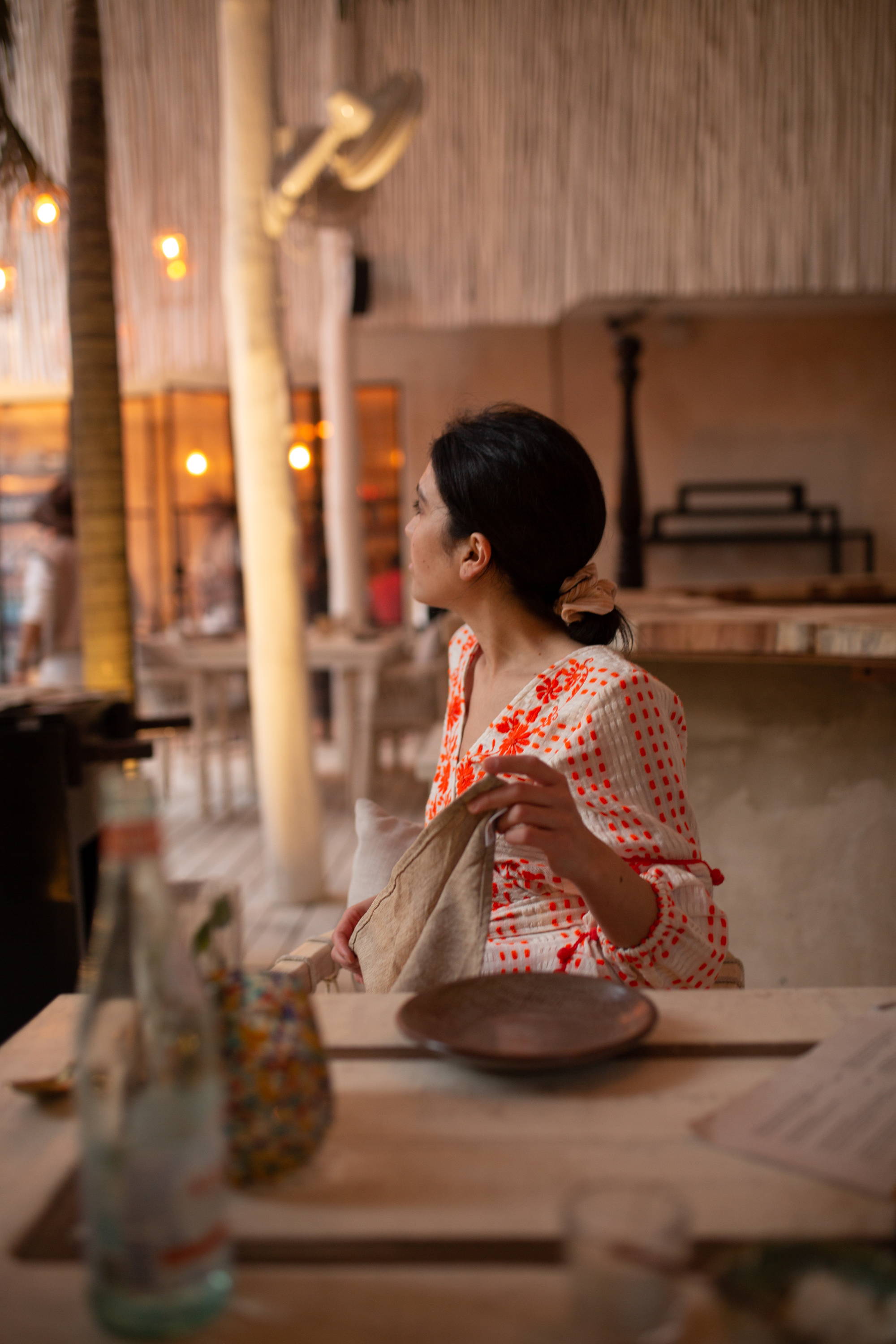 The fashion industry is constantly evolving - the days where you would share your favorite bloggers' photos on Tumblr are a very distant memory. Today, influencers have to stand out and express their authenticity. It's not about hopping onto whatever brand bandwagon is trending, but instead opting for messages and styles you truly believe in. Whilst styles inspired by the catwalk are exciting, people are reflecting now more than ever on how they can optimize their wardrobes.
Minimalist chic is in - and it's here to stay.
Nesrine, of Temps d'un Café is the epitomy of minimalist chic
- neutral tones, refined styling and simple lines allow her to own a look that will never age. Her Instagram feed is a Parisian's dream - exotic locations, check, and most importantly, classic fashion with a twist, double check! She knows how to turn heads with a dash of bold accessorizing and by revisiting classics and turning them on their heads. Simplicity and sophistication go hand in hand, all whilst mixing luxury with more accessible brands. Nesrine's personal style remains edgy while at the same time adopting a more sustainable and timeless way of dressing. As they say, less is more - in fact, less is stronger.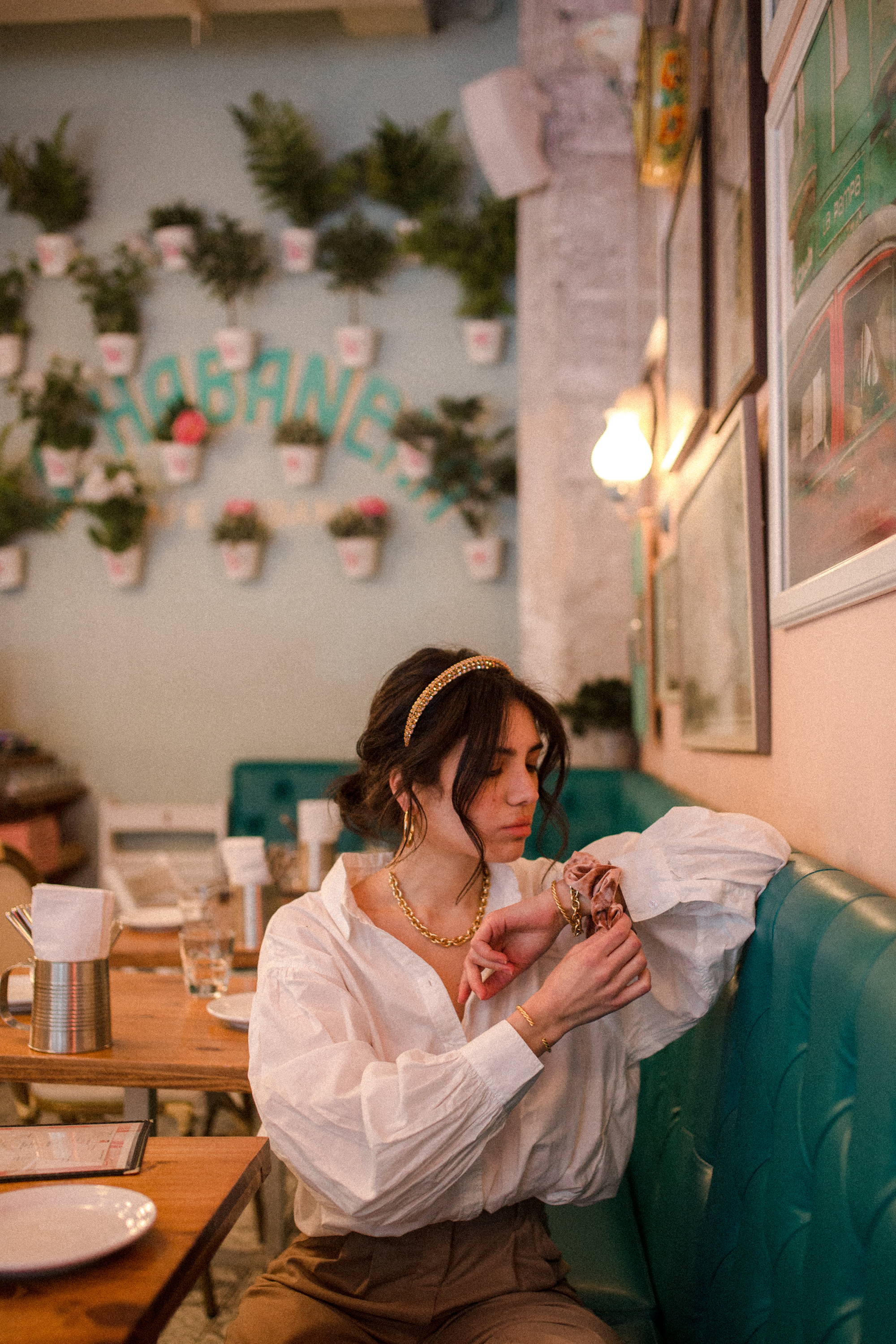 Personally, fashion is about being open-minded and not caring about trends at all.
An authentic way of dressing is by dressing how you feel, "Since my outfits depend on my mood, I try to have a bit of everything in my wardrobe", she enthuses. Having a bit of everything doesn't mean over-spending, but refreshing your basics, topping up more elegant pieces and injecting fun and personality into your wardrobe. "Personally, fashion is about being open-minded and not caring about trends at all". The trick is, like Nesrine can be seen in a feminine dress one day and opt for a menswear-like outfit the next. You can be very chic one day and opt for a more casual outfit of sweatsuits and 90's sneakers the next.
One outfit doesn't define who you are, your personality should guide your way of dressing. Your culture, background and personality traits should inspire you – "I tend to take my inspiration from movies, mostly old movies. A turning point in fashion for me was watching French movie Hors de Prix with Audrey Tatou. (…) This movie made me understand how showing your legs, arms, cleavage was not provocative in any way. Elegance is all about the way you carry and portray yourself and not necessarily what type of clothes you wear".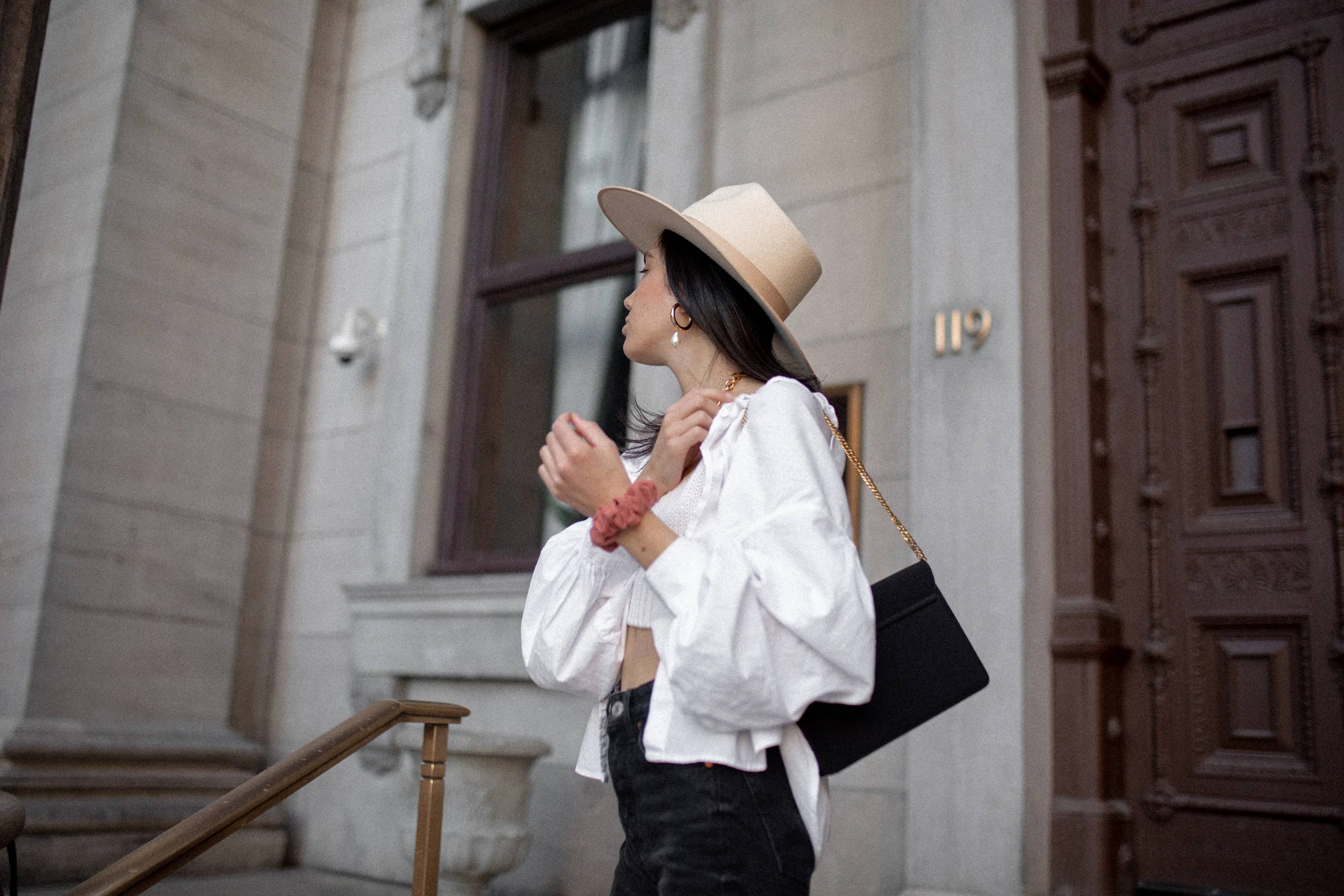 Nesrine stays true to her individual and timeless style without being easily swayed by faddy trends. It's so easy to get caught up in the mystical and magical world of fashion, and want to splurge out on all the trends – and though you may look and feel fabulous at the time, next season you will feel guilty staring at that outfit that's been squashed to the back of your wardrobe. The key is balance – you can rock a trend-led piece, and incorporate it into your go-to outfits.
"Weirdly, I've never felt like fashion was about being on-trend. However, to make sure my readers find the inspiration they need, I try to incorporate some trendy elements now and then. I want people to have fun with fashion, which is the main reason why I have so many different styles". Minimalist chic doesn't mean bland, but finding ageless pieces that will make you look and feel amazing season after season - finding outfits you just can't get enough of!
"My go-to outfit is a silk pyjama with shawl lapels from my brand Milord Chérie", as a fashion designer herself, Nesrine strives to create pieces that are effortlessly feminine and timelessly chic with a trendy edge. "I'm so thankful that fashion is evolving, and we are now allowed to wear very fancy pyjamas in public. A fancy pyjama should be everyone's go-to!"
Comfort never had to compromise style, in fact, looser shapes and luxurious fabrics make a look all the more elegant, don't you think?
Nesrine knows how to mix things up with a statement accessory – having a chic wardrobe doesn't mean you have to break the bank, but if you want to treat yourself, a classic designer bag will be your ally when on your quest to a unique wardrobe. She also loves to add a splash of vintage to her envy-inducing wardrobe, "I mix vintage with more recent pieces. Since I don't have a specific aesthetic, I have a bit of everything, which is great. I could be wearing Dior earrings with my mom's pearls and a cute scrunchie from Chelsea King. Mix and match is key!"
We all know that personal style doesn't just include fashion, but also your hair. It reflects part of who you are, and looking after it is a step closer to an on-point look. Nesrine admits, "I am actually so bad when it comes to making my hair look good. Therefore, investing in some beautiful accessories is so important. My scrunchies are part of most of my outfits so I ALWAYS get away with a simple ponytail". Her key to a flawless ponytail? Using a curling iron to give your hair a natural loose wave.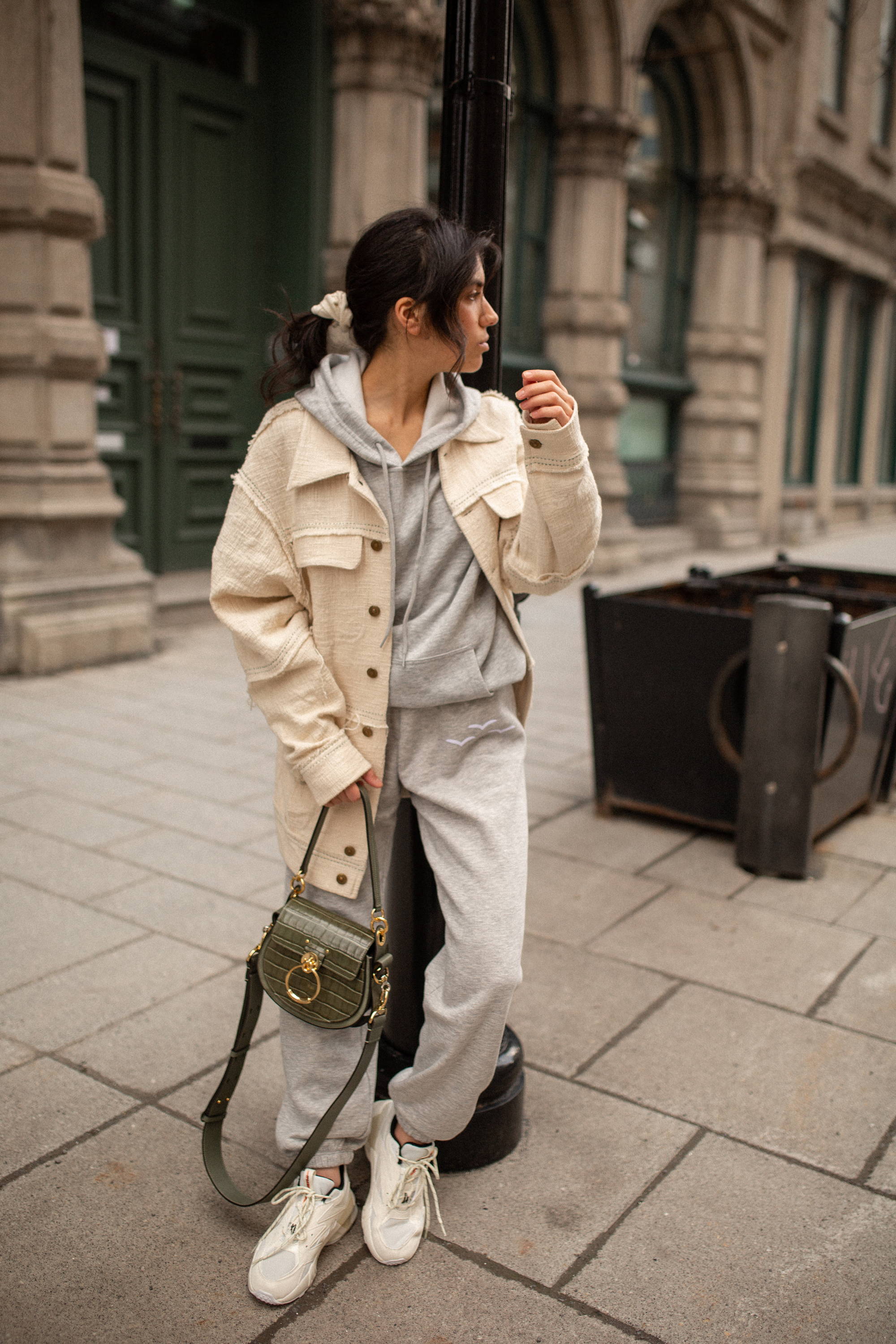 Embrace your authenticity
More now than ever, an authentic style and message as a fashion content creator is increasingly important. At a time where the world is drastically changing, people are becoming more aware of the messages that are being spread on their feed. With that, sustainability and more responsible purchases are becoming a hot topic. "People are starting to understand how slow fashion is also a thing. I also love the fact that more and more people don't care about trends but more about quality. It's important to make people understand that fashion is not about 10 collections a year". More and more fashion influencers are trying to spread a different message – influencing is not about a huge haul at Zara anymore, but more about making consumers aware of what they are purchasing. This is where the minimalist chic vibe comes in – investing in key items and building on a capsule wardrobe will avoid unnecessary spending and allow you to still play and experiment with fashion.
Be sure to check out more from Nesrine on Instagram at @tempsduncafe, and her blog at www.tempsduncafe.com
---