Giving from the heart: Chelsea King is proud to support the Rising Stars committee and Make-A-Wish Canada as part of Together Spreading Joy & Giving Tuesday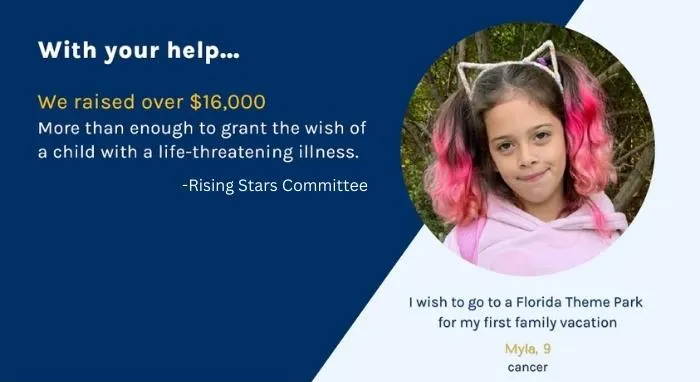 "It's not how much we give, but how much love we put into giving." (Mother Theresa)
Every holiday season, the whole team at Chelsea King comes together for Giving Tuesday – an opportunity to "walk the walk" on our mission to use our resources as a company to support the organizations close to our hearts. This year, we're proud and honored to be able to support the Rising Stars committee once again. We've been involved with the Rising Stars and their amazing donation drive to Make-A-Wish Canada for over two years now, helping to raise over $25,000.
This has included:
Participating in 3-part virtual series Wishing Well to donate scrunchies for care packages that led to over $13,000 raised;

Donating scrunchies for swag bags in their Made in the 90s social night in 2022, raising over $16,000.
In 2022, we're excited to also give over $6,000 in product to assist the work of the Rising Stars Committee. This group of young professional leaders and volunteers, committed to advancing the mission of Make-A-Wish foundation, impresses and inspires us with their drive and wish to serve as ambassadors for their community.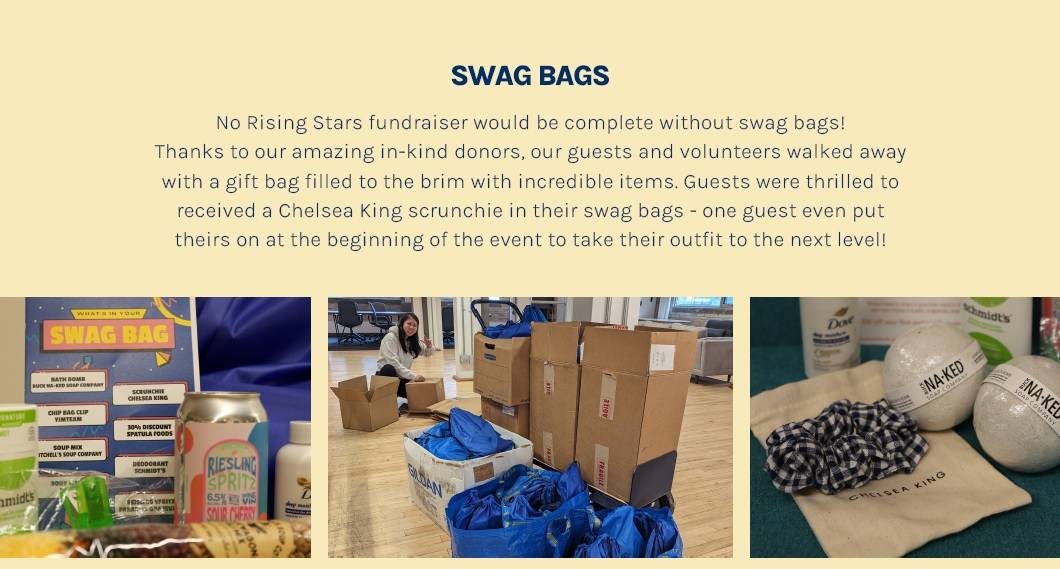 At Chelsea King, community is also one of our driving forces. Since 2014, we've not just worked to infuse care, respect and humanity into our hair accessories, we've also deliberately taken all possible steps to support our wider community. On the one hand, we've invested consistently in ethical production practices. On the other hand, we've always focused on manufacturing locally wherever possible and sensible, investing in quality and sustainability.
But, beyond how Chelsea King interacts with the local community, we've also always wanted to give directly to those who need our help. That's how the Chelsea King Together Spreading Joy project came to life. It's thanks to our customers' support that we've been able to put together rewarding initiatives, using our sales proceeds to donate to causes like City Dream Centre. Their programs aimed at feeding and educating those in need are crucial to our community and we are proud to support them.
Partnering with the Rising Stars committee is also a uniquely rewarding endeavor, enabling us to be part of the fantastic work that Make-A-Wish Canada is doing to grant the most crucial wishes for children suffering from critical illnesses. These moments of joy give kids a window outside their suffering and allow them to live a more authentic childhood experience. And, thanks to the support of our customers, we're able to play a small role in these efforts.
Ultimately, this impact is cyclical, which makes it all the more rewarding to us at Chelsea King and – we hope – to our customers. Purchasing a Chelsea King product gives sustainability and ethical production a boost. It also enables us to raise funds and put aside additional products for other charity events. Finally, funding the work of the Rising Stars committee and of Make-A-Wish Canada temporarily lifts suffering kids' spirits and brings a smile to their faces. You can see a connection from buying hair accessories all the way through to the possibility of supporting wonderful endeavours like this one – and that's what Together Spreading Joy is all about!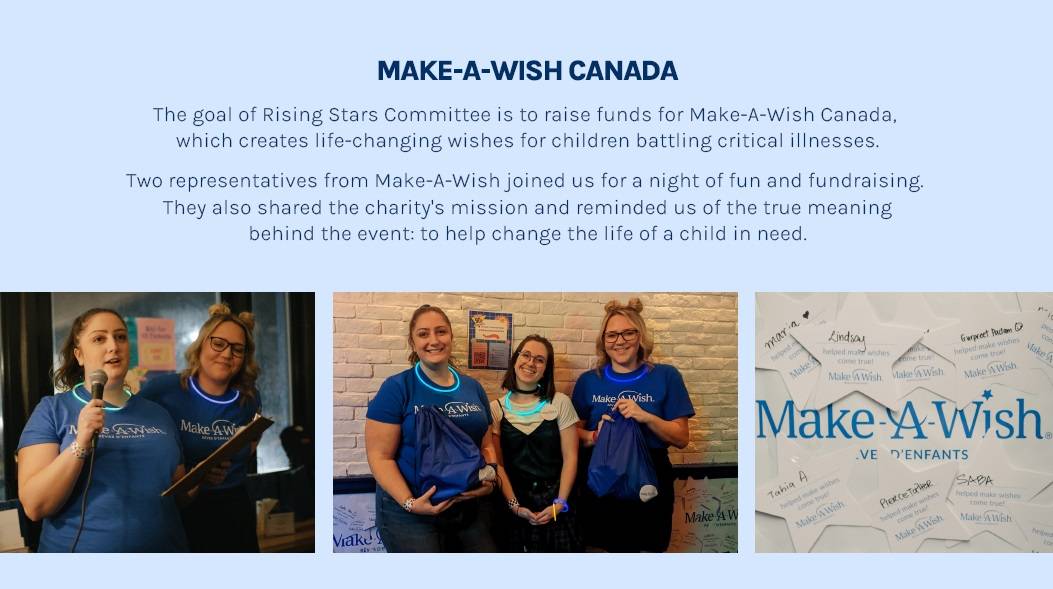 Replacing children's fear with confidence, sadness with joy, and anxiety with hope is what drives the work of the Rising Stars committee. Alongside our partnership with them, we're also delighted to have supported the City Dream Centre, Mamas for Mamas, the BC Women's Foundation and the Canadian Cancer Society. As well as our continued support to hospitals and front-line workers, from the Stollery Children's Hospital in Edmonton, AB, the BC Children's Hospital in Vancouver, BC to Montreal Children's Hospital in Quebec, and so many more, along with more charities such as local children's clubs, family support services, etc. As of December 2022, the total value of products we've donated across all our favourite partnerships is a staggering $115,779.55.
So, this brings us back to the starting quote of this story: "It's not how much we give, but how much love we put into giving." Mother Theresa speaks straight to our hearts, and – we hope – to yours. When you purchase a hair accessory, that sets in motion a series of actions which can bring joy and a tangible improvement to many. It's one of the pillars of our organization and a way to support our community every day. And, when fundraising events like those organized by the talented Rising Stars committee manage to multiply these efforts exponentially, we can tell that the positive vibes are transported into the Make-A-Wish wishes come true, and into the other meaningful, life-changing work of our favourite charities.
It is a humbling and yet proud moment when we take stock of this work, and we're looking forward to many more wonderful Giving Tuesdays in the years to come!
---