Brunette the Label: An Upcycle Collaboration
---
Furthering the anti-waste movement in Canada, two apparel brands, Chelsea King and Brunette the Label are joining forces for a unique, eco-friendly collaboration. Their project is promoting upcycle fashion — a creative renewal process where companies transform existing products into new materials.
By reusing slightly imperfect garments from Brunette The Label, Chelsea King is turning them into the perfect collaborative hair tie. Each individual scrunchie is handmade from Brunette The Label's signature cotton and poly blend sweatshirts and hoodies, making each piece truly one-of-a-kind. This effort is inspired by a new way of embracing clothing that doesn't make its way to retail.
Often during the manufacturing process, some garments are made with minor design flaws. However, the material still remains valuable and can be used for another purpose. Unfortunately, many major manufacturing companies simply discard these products when they aren't destined for retail. Instead of this wasteful approach, the upcycle system treats all fabrics and textiles as unique and special by giving these materials a new purpose — in this case, reconstituting them into Chelsea King signature scrunchies.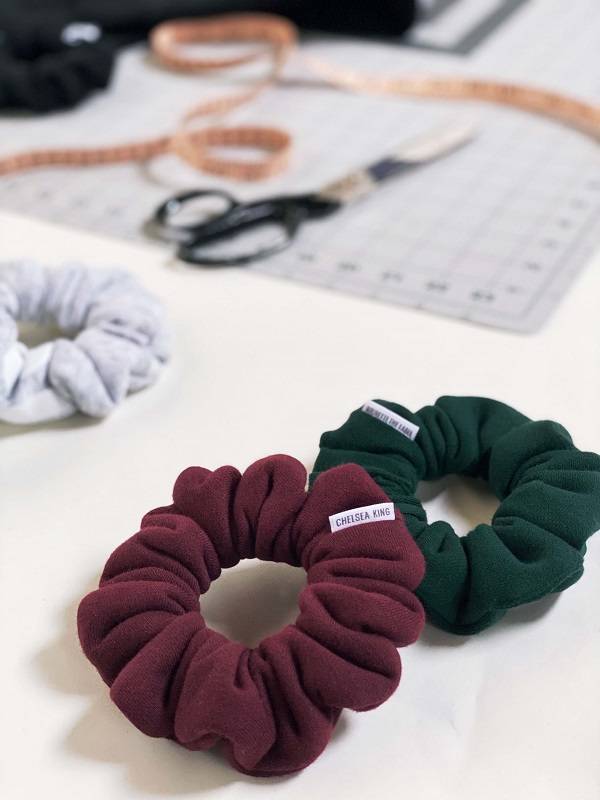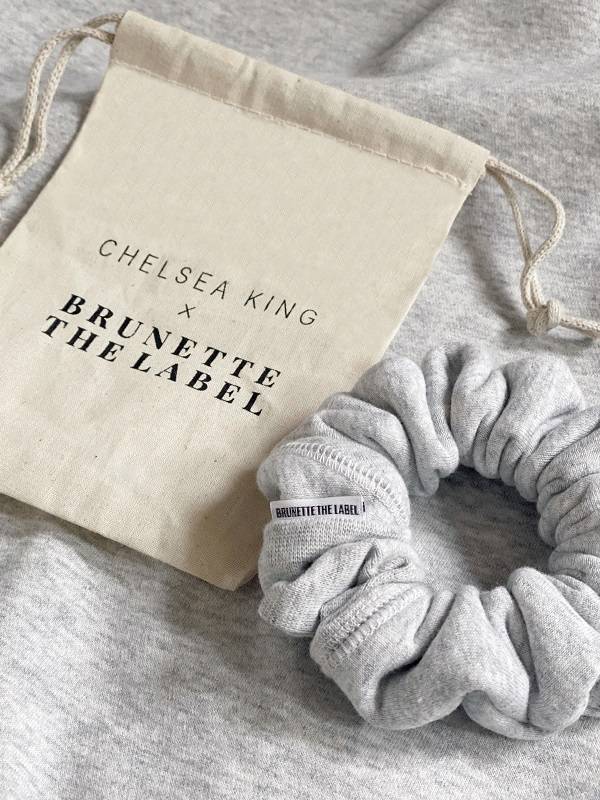 Since each scrunchie comes from its own unique origins, they are part of a larger journey, from their beginnings as a garment to their new purpose as a hair accessory. Through this proud and caring process, each scrunchie is stitched with traces of its own story. In turn, the brands are sending a clear message: fashion should be a social-forward movement — one that benefits everyone involved in the product's life cycle, including the manufacturer, the retailer and the consumer.
Each year, more than 60% of our country's fabric fibers end up in landfills. The reason? Two words: fast fashion. In an effort to combat this problem, the collaboration between Chelsea King and Brunette The Label aims to spread awareness about the benefits of slow fashion. Rejecting the idea that any fabric should be part of a throw-away ritual, these brands are united in their mutual efforts to save our landfill, while creating a sustainable fashion culture.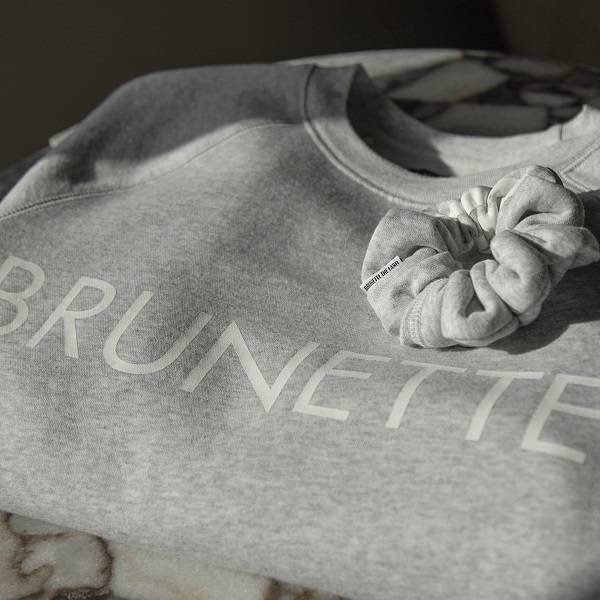 These scrunchies are not factory-made like many other mass-produced goods. Each one is hand-cut and sewn in a small atelier based in Canada.   By educating consumers to make conscious buying choices, more people can take part in improving our fashion landscape. The lesson here is that any product can be re-imagined into something useful in the fashion space. However, the possibility for social change can only happen if all parties join the initiative, both retailers and consumers alike.
---
Born From Original Brunette The Label Signature Sweatshirts
---
Taking us one step closer to this initiative, Chelsea King and Brunette The Label are modelling the slow fashion trend, inspiring a new way to appreciate the value of apparel. Replacing the mechanized, robotic nature of mass clothing production, these brands focus on producing pieces with care using high-quality fabrics. This collaboration represents a circular fashion life cycle. Starting from the origins of collecting the repurposed fabric, all the way to the creative space of the atelier, their mission brings a whole new level of ethos and hands-on integrity to the manufacturing process.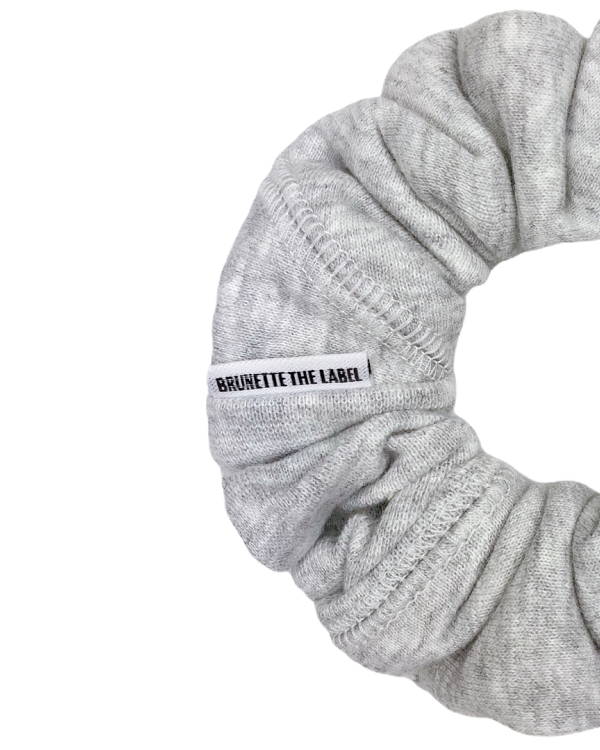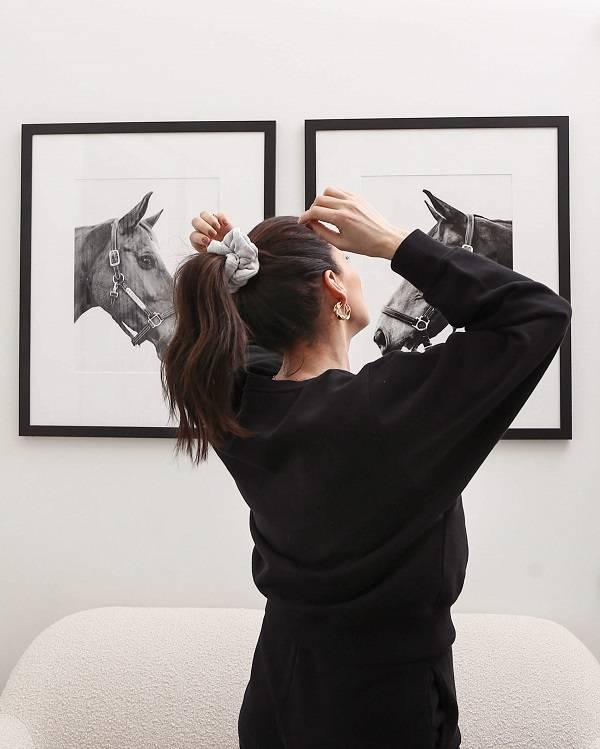 It's all about respecting the material's former life, while recontextualizing them with a new purpose. This system creates true sustainability, but it can only happen when the entire supply chain is sustainable.
That's why every handmade scrunchie by Chelsea King helps create a balanced ecosystem in the fashion space. To get on board, visit chelseaking.shop and opt into the mailing list to get 10% off your first order.
---

Not only do these scrunchies contribute to slow fashion and sustainable shopping, they also support another great cause. A portion of proceeds from the sale of each scrunchie goes to support the BC Women's Health Foundation, an organization passionately advocating for women's health and dedicated to the pursuit of equitable investment models in health, research, policy, and practice.
---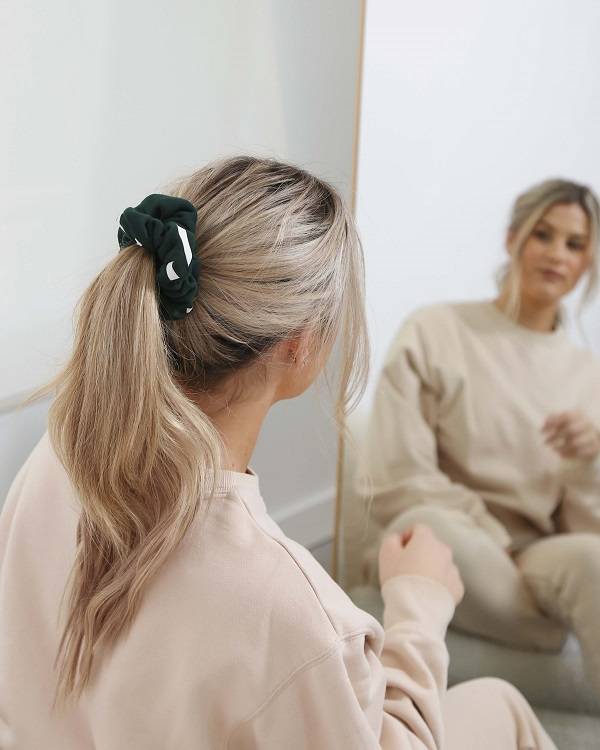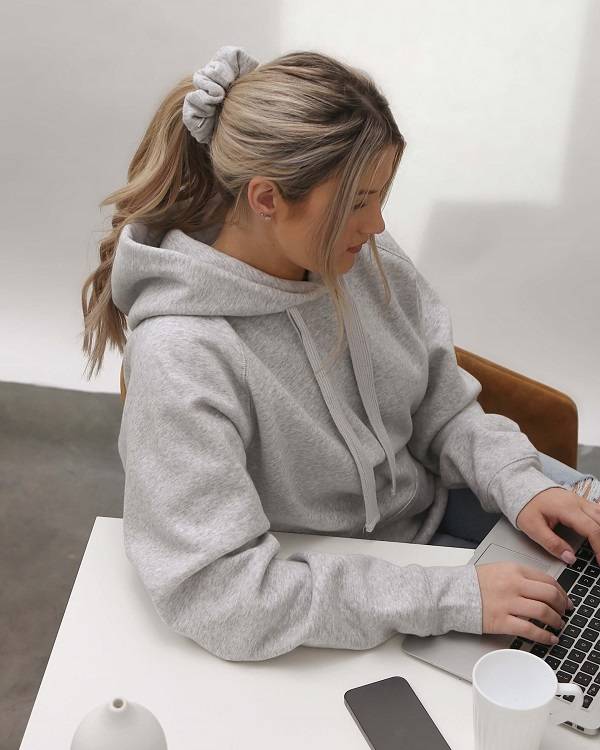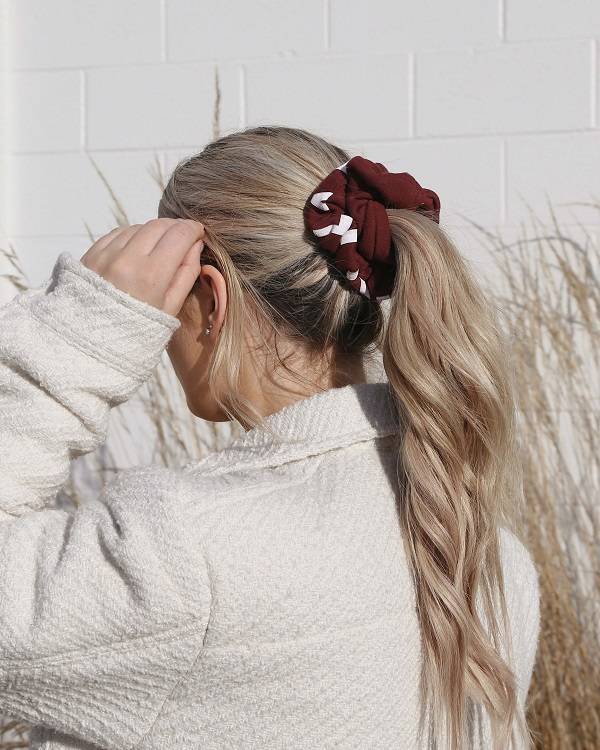 ---