Artist Edition, Vol. 1, Kyle and Shaughnessy Otsuji
Modern-Vintage, Cosmetic Tattooing, Tie Dye & Avocados.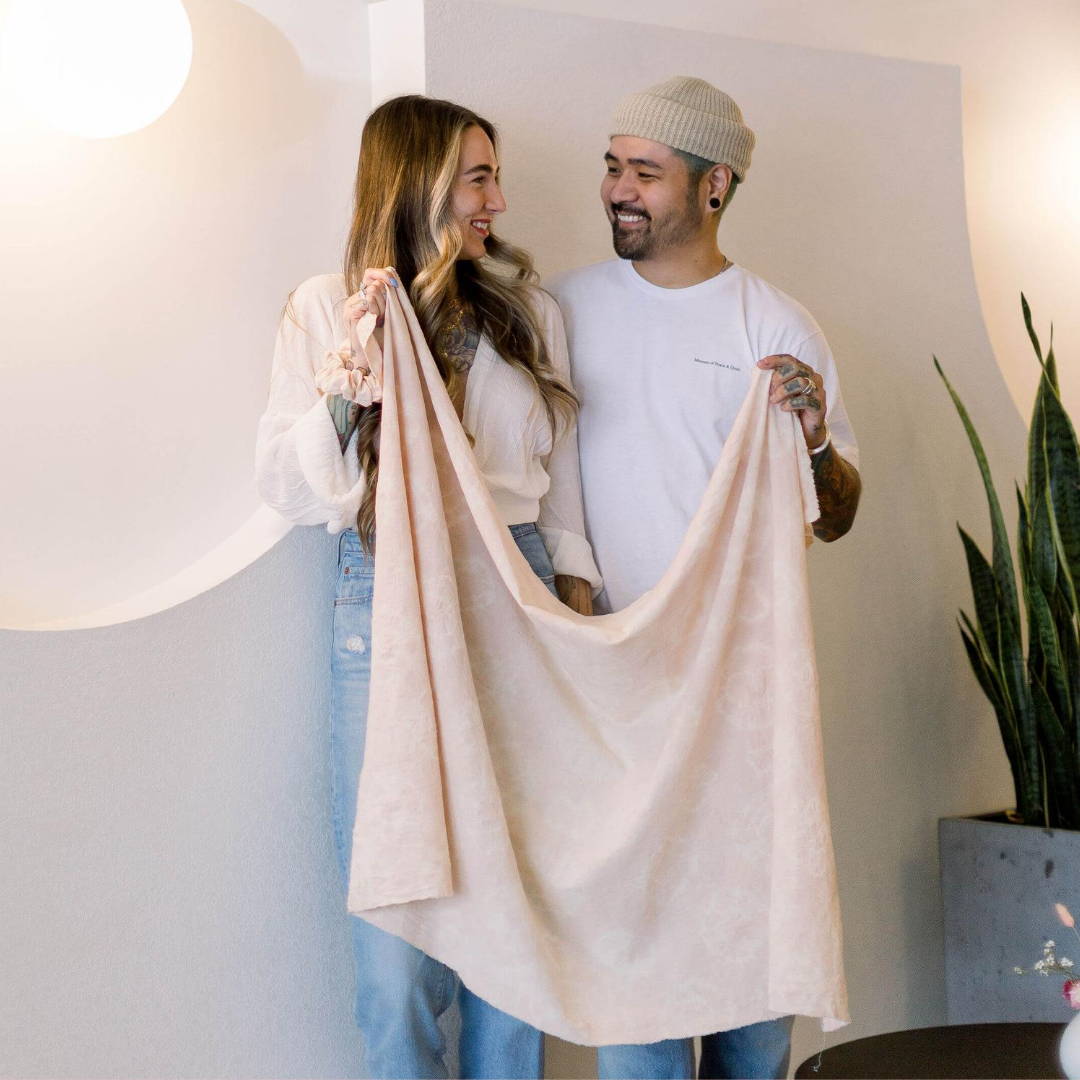 When great minds come together – magic happens! Chelsea King has teamed up with talented artists and savvy business owners, Kyle and Shaughnessy Otsuji on the new Sashiko Hand Dyed Avo-Blush scrunchie – perfect for days hitting the waves or on your summer getaways. The talented pair don't own just one but two businesses. Their creative streak and thirst for new challenges make them the proud owners of contemporary tattoo studio, Studio Sashiko, and of Pinkavo Café, providing refreshing and natural eats in a sleek and sophisticated atmosphere.
We wanted to create a product that would show our love for all things natural
Sustainability is a topic that is coming to the forefront of fashion and we have embraced this new way of living. Our new tie-dyed scrunchie has been dyed naturally, using the Japanese technique of Shibori. This technique embellishes textures by shaping cloth and securing it by binding or knotting before dying it. Its naturally soft and subtle look comes from using avocado pits and skins, which gives it its pinkish hue.
Sustainability isn't just a trending topic, it's a movement to be embraced. Kyle and Shaughnessy Otsuji do just that – they are the proof that upcycling never compromises style. Their dreamy aesthetic is through hidden treasures found in vintage stores.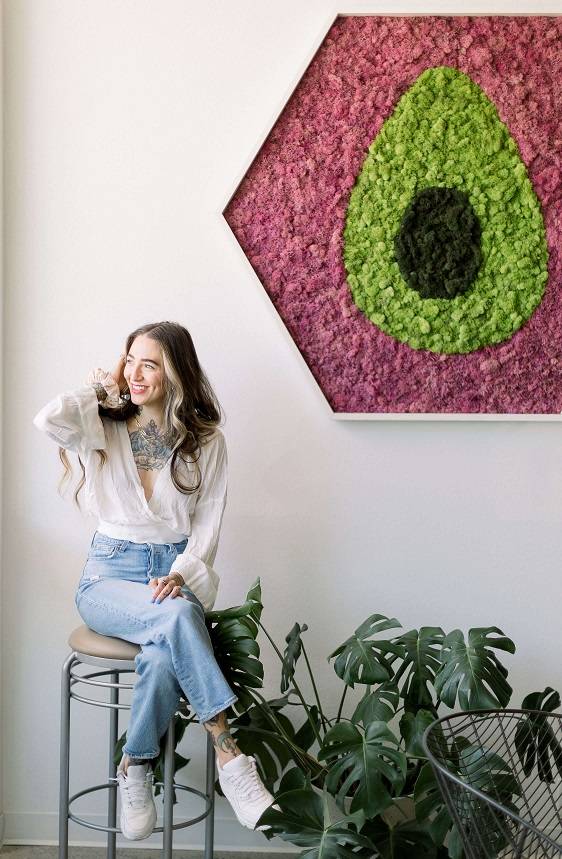 Our days off are mostly spent at our local thrift stores searching for vintage denim, t-shirts and other unique pieces. We have collected a lot of amazing finds that we have incorporated into our own wardrobes as well as our studio's retail section! We also try to source mainly vintage furniture and decor for our home. It's the easiest way to create a unique, eclectic space!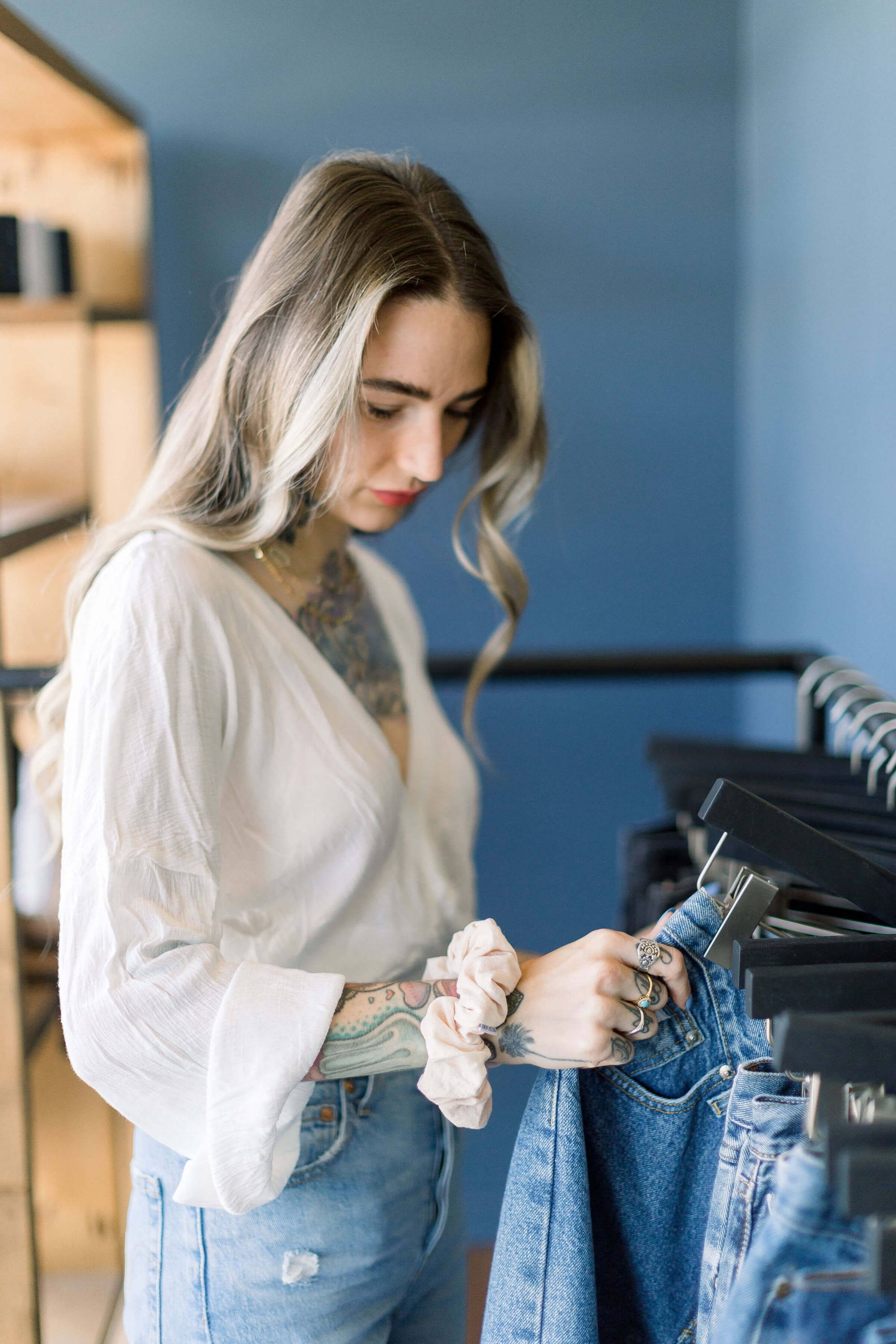 Their key tips to living a more sustainable lifestyle?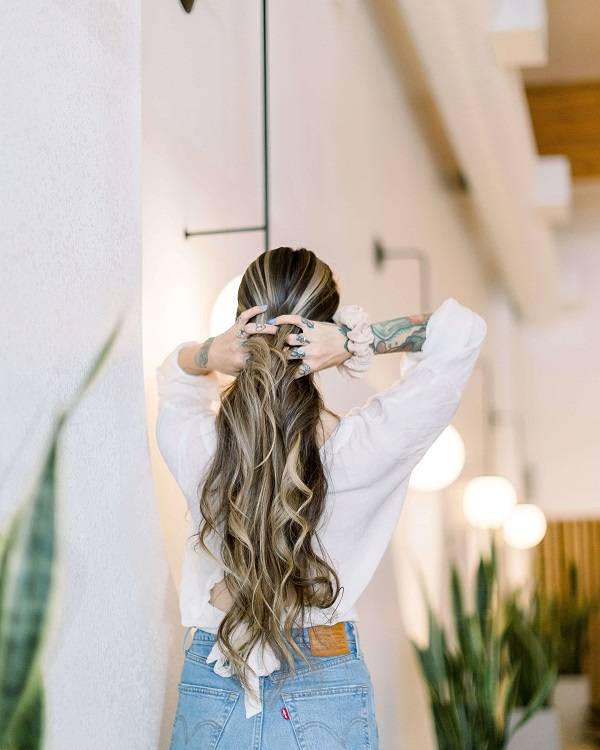 Buying second-hand, growing your own veggies and herbs and upcycling their wardrobe. They recommend embroidering and altering clothing to move away from those bad fast fashion habits. Another one of their favorite ways to refresh their wardrobe is through hand-dying – our collaboration represents them to a tee!

Their minimal aesthetic is such a compliment to Chelsea King's timeless chic styling. The result? Our new scrunchie is the must-have accessory for any outfit! Shaughnessy explained, "I often wear a tight, low bun with a Chelsea King scrunchie wrapped around it for a bit of color! The neutral tone of this scrunchie makes it the perfect accessory for a t-shirt and jeans kind of outfit, or paired with a cute Summer dress!"
This same aesthetic can be found within their businesses. The power duo's personal style has carried through to their companies and other creative projects. "We think it's important for a business to reflect the styles, views, and personalities of the owners. Showcasing a bit of our culture and style has proven to be successful in our studio as it allows potential customers and clients to feel like they know us on a more personal level and can trust us with the services we provide!". It's what makes their selling point – an inspirational place to eat, or in the case of their tattoo studio, an awe-inspiring place to get your cosmetic or restorative tattoo.
Their identity shines through these ventures, making their projects ooze sophistication and edginess. Fashion has also inspired their journey – in fact, they used to own their own clothing brand! They have learnt a lot about details and quality along the way, "This easily translated into the meticulous style of cosmetic tattooing we offer, as well as the Japanese, mid-century modern interior design/furniture we have included in our store!". If you're looking for a stylish, classy and innovative place to get your tattoo done, Studio Sashiko is the place to go! Through their travels, they are even more determined to expand their businesses, and open tattoo studios in beautiful cities. Perhaps you'll be seeing a Studio Sashiko near you?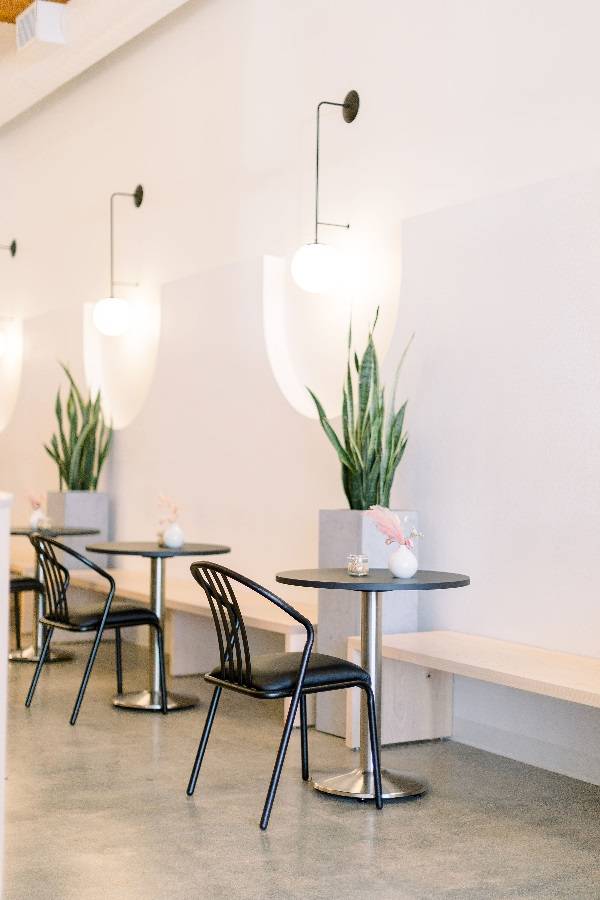 Their unique approach is what makes Studio Sashiko so popular. Having both worked in the tattoo industry for years prior, they wanted to provide a rare service – cosmetic tattooing. "Many people would come into the shops asking if we offered permanent makeup and we didn't. We realized there was a gap in the industry and a place for us to thrive in as no one in our area was offering a unique, realistic-looking approach to this type of tattooing!" they told us.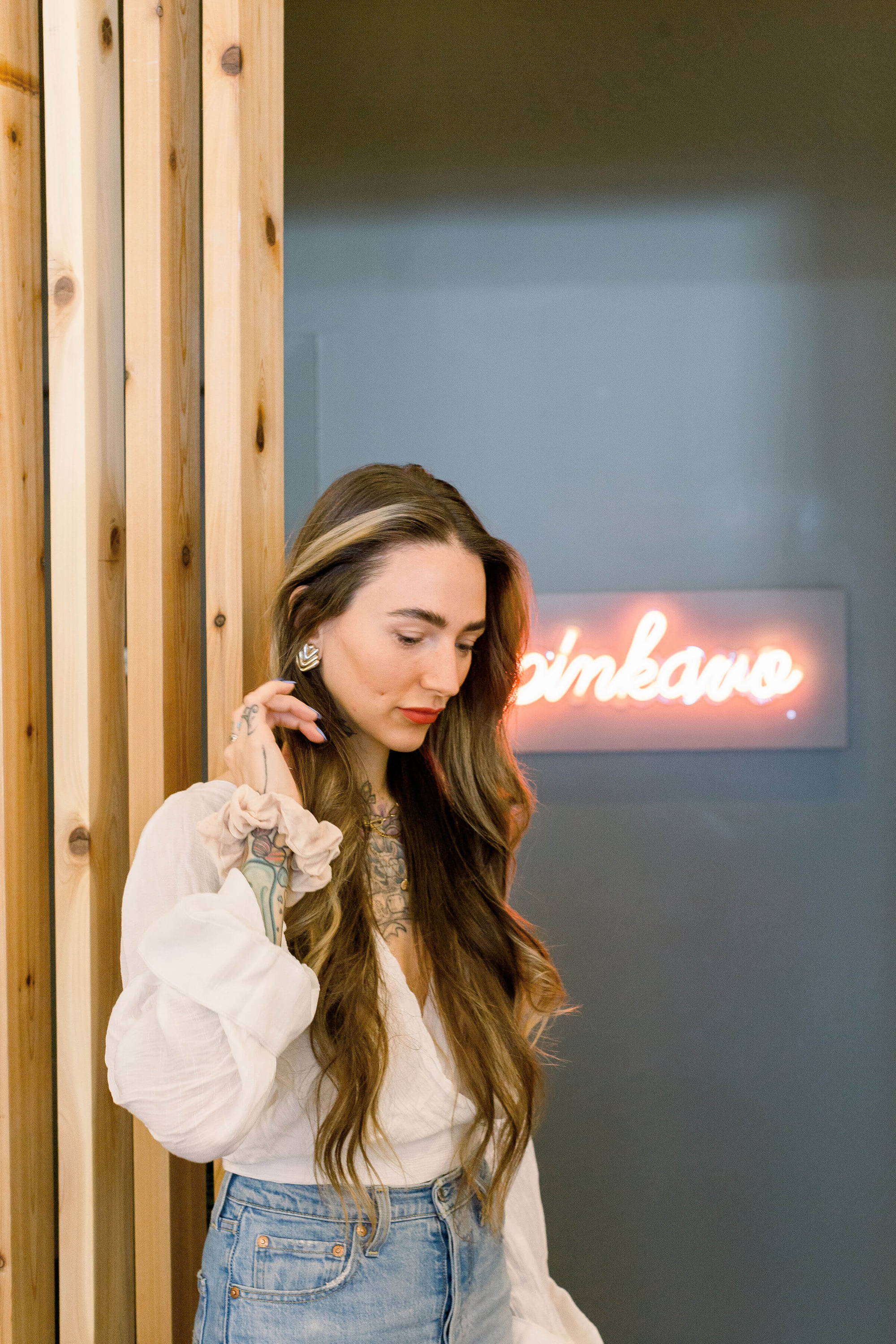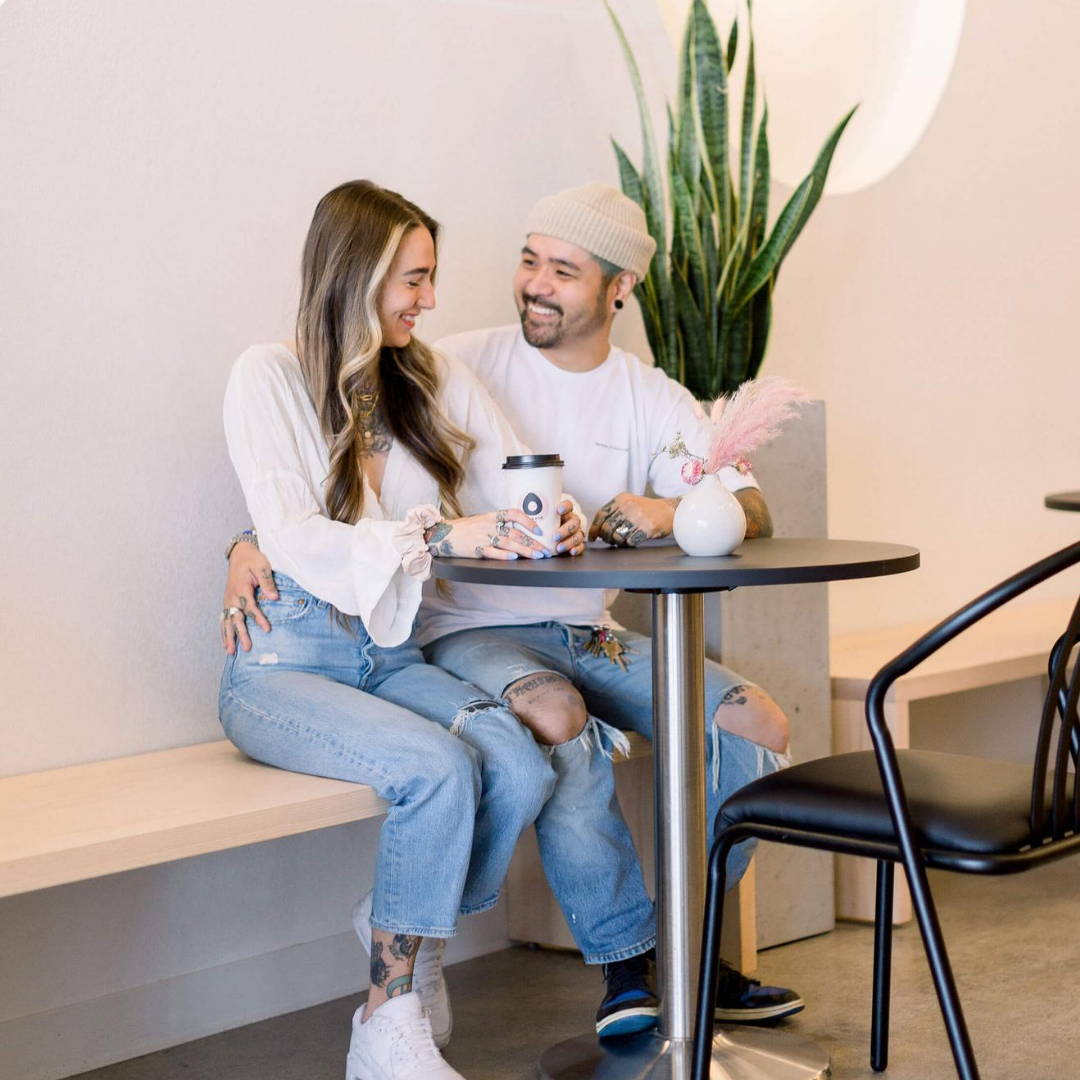 Shaughnessy later ventured into offering restorative tattooing for those who have battled breast cancer or have undergone breast reconstruction. After a close family friend received unrealistic results from her technician, Shaughnessy made it her mission to offer a more artistic approach for brave and bold women.
We can't wait to see what the creative couple have next in store. Going from one project to the next, they are always on the go. We are thrilled to be working with such a dynamic duo!
COMING SOON!
Limited Edition 'Sashiko Hand Dye Avo-Blush Scrunchie'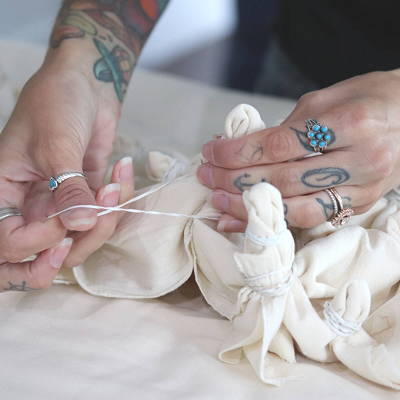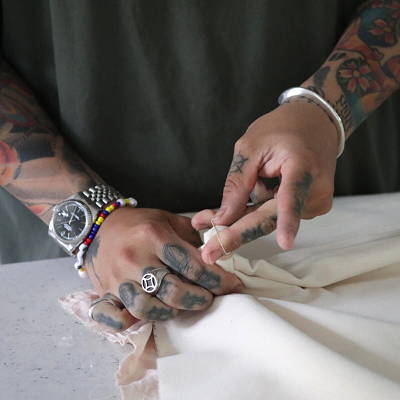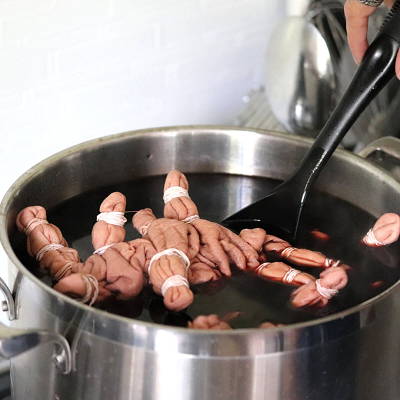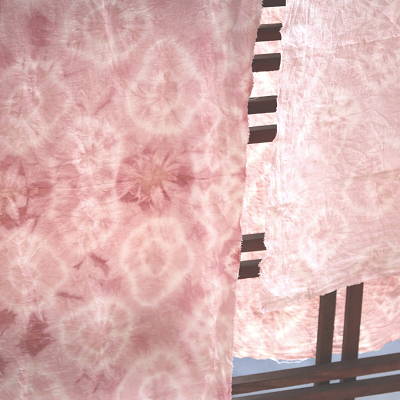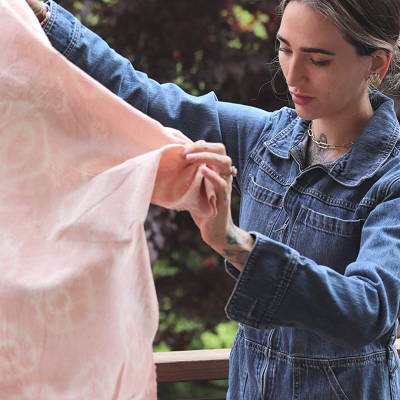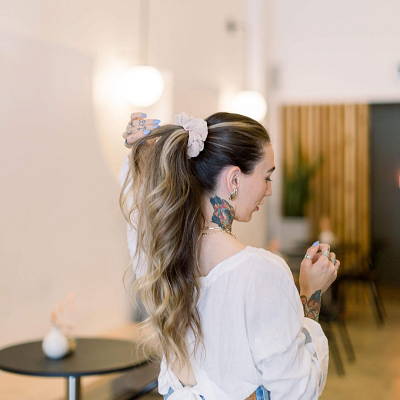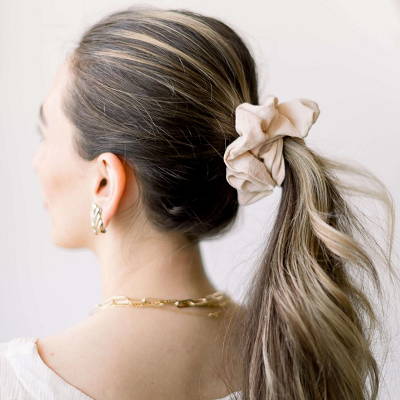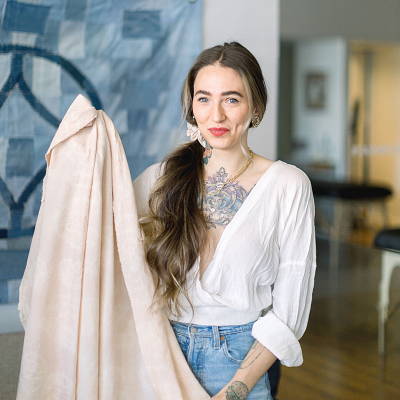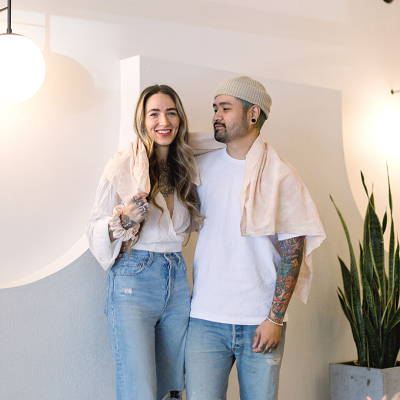 ---