ANSWERING THE QUESTION, "ARE SCRUNCHIES BAD FOR YOUR HAIR?"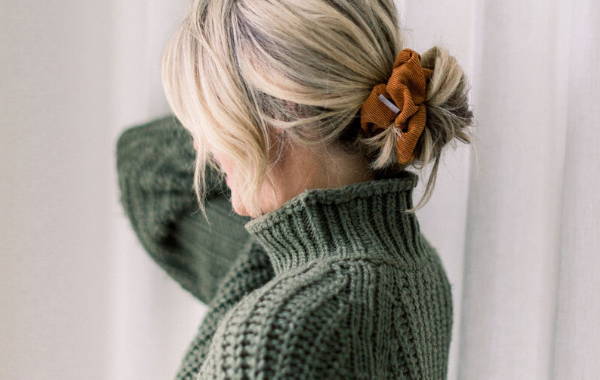 So, are scrunchies bad for your hair? The short answer, "No". But, do you want to know why a properly made scrunchie is good for your hair?
Here are a few reasons why there is no better alternative to a well made scrunchie.
1.While elastics cause hair damage and breakage, a well made scrunchie provides that extra layer of protection with the additional fabric. According to celebrity hair stylist Cash Lawless, "Your hair gets damaged mostly during the detangling process when you take out traditional hair ties".
2. Elastics cause headaches. A well made scrunchie won't. And yes, there are quality differences in scrunchies that will affect whether they will protect your hair.
3. But, don't scrunchies use elastics? Yes, but well made scrunchies use a wider, natural fiber, braided elastic sewn to the perfect diameter to provide just the right amount of hold without causing headaches or breakage.
4. Scrunchies are a stylish and effortless upgrade to elastic hair ties, or barrettes or anything with a metal clip.   According to Eufora International co-founder Don Bewley, "Think of it like tires on a car — wear and tear will lead you to balding." Yikes! Thankfully, not so with a correctly made scrunchie.
5. If you want added protection for your hair, consider our satin sleep collection. Satin reduces friction which further helps to keep your hair healthy. Silks and Satins also don't draw out the moisture your hair naturally has which also assists in preventing hair damage. This as well makes them perfect to sleep in.
6. How about the scrunchie for fine hair? I can relate to this and scrunchies for me have been a lifesaver, or should I say, hair saver. I also found them to add the appearance of volume.
7. Ok, so what about thick hair? Many alternatives can't effectively hold my hair. Well, a Chelsea King scrunchie does the trick with just the right amount of hold allowing it to hold your hair all day.
Additional scrunchie benefits…
8. Not now, but maybe later? Scrunchies can be worn on your wrist as a bracelet, always there for that moment you need it.
9. They can add a unique hint of colour to any outfit.
10. Perfect for active gym hair or beach hair.
11. No matter who you are, if you have medium to long hair, straight hair or curly hair, the scrunchie can work for you.
12. Go from bad hair day to great hair day in 20 seconds flat.
13. A simple way to upgrade any outfit
14. Prefer less fabric but don't want to settle for traditional hair ties or elastics? We have petite styles as well which are the skinny scrunchie alternatives to our classic styles. Same perfect hold, just less fabric.
By the way, the scrunchie has even found its way into the fashion forward hearts of Parisians. In French, they call the scrunchie "chouchou" meaning "darling". Love that.
---