Alterna, A Healthy Hair Hero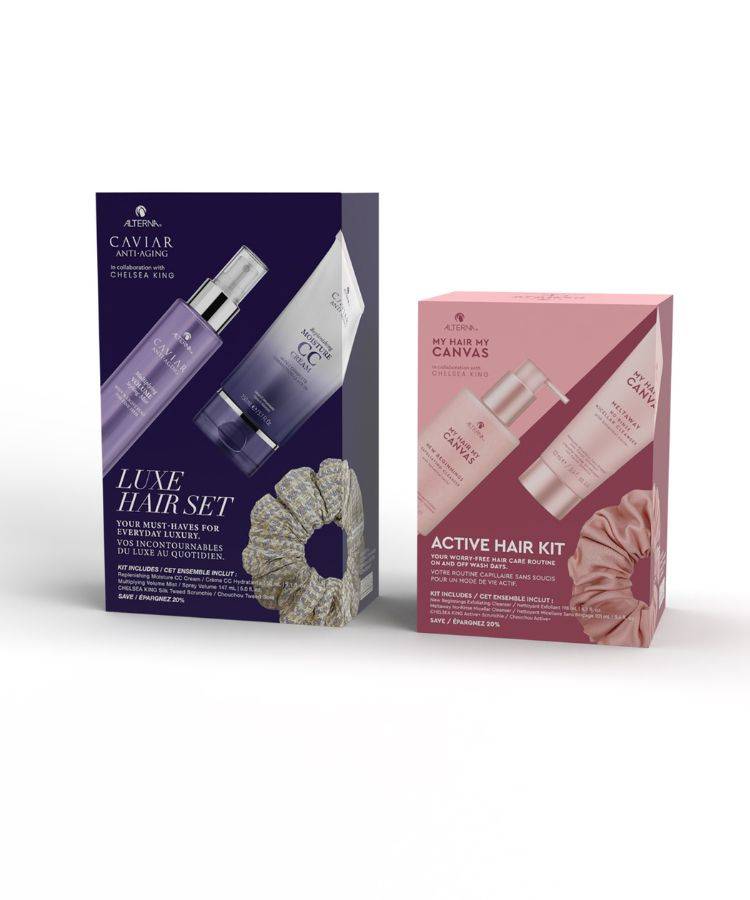 you deserve to take time for yourself and indulge in self-care that delights the senses.
Adopting everyday haircare rituals rooted in luxury and care gives your strands the love and attention they deserve. While not only producing bouncy and healthy hair you're proud of, using quality products on your hair can elevate both your mood and how you feel about your overall look. It reaffirms the belief that you deserve to take time for yourself and indulge in self-care that delights the senses. And what better way to achieve that than through this transformative collaboration between Chelsea King and Alterna Haircare?
Alterna transcends ordinary haircare with luxurious, pure and skin-care-inspired formulas. Created with an emphasis on self-care, Alterna is here to turn normal everyday hair experiences into memorable moments you look forward to. Instead of rushing through your hair routine with little to no results, Alterna's products are designed to be incorporated into relaxing rituals that leave you feeling nurtured and inspired.
Using only the finest of ingredients, Alterna helps people achieve healthy and nourished hair without parabens, SLS/SLES sulphates or synthetic color. Tested and loved by the best in the industry, these everyday products awaken your senses through sensorial textures and aromas. Formulated for women who value authenticity, self-care and haircare that goes the extra mile, Alterna is all about prioritizing indulgent rituals that make you feel exceptional.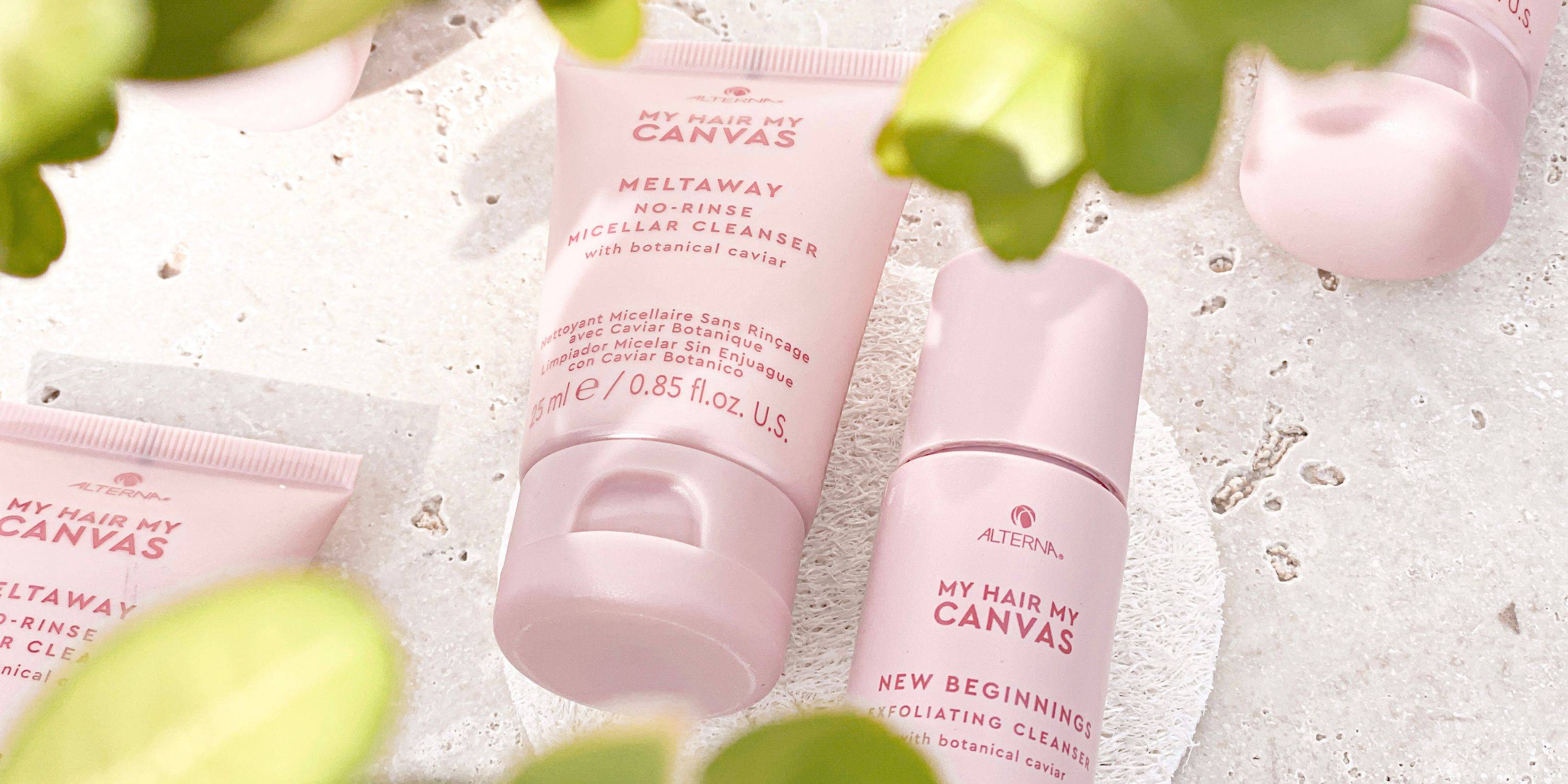 How Does This Fit In with Chelsea King?
Just like Alterna, Chelsea King is built on exquisite craftsmanship that elevates hair care. Looking after your strands requires a multifaceted approach. Using superior hair products without the appropriate accessories can reverse all of your handwork and vice versa. That's why it's so important to not only treat your hair with high-quality ingredients but to style it with products that are gentle, secure and crafted with care, too.
Whether you're looking to scoop back all of your hair in a claw clip, tie it up with a scrunchie, or wrap it with a Scrungee, the type of hair accessories you use matters. Using low-grade materials can exacerbate hair dents and split ends or cause irreversible breakage that's difficult to treat. That's why haircare experts recommend always using first-rate hair accessories to keep your hair safe and protected.
Chelsea King's handmade hair accessories are mindfully crafted to enhance your style while looking after your strands. Centered on ethical production, we're on a mission to provide luxury hair products that not only look stunning and last but also keep your hair preserved and healthy at the same time.
Celebrating our passion for everyday luxury, we've embarked on an exciting collaboration with one of the leading names in transformative haircare to provide you with deluxe hair kits that keep all of your hair needs covered from treatment to styling. Here's what you can expect from this exciting venture between Alterna and Chelsea King.
Luxe Hair Set - Alterna Caviar Anti-Aging
The Luxe Hair Set has been hand-selected to provide you with everyday must-have products that transform your hair care. Designed to supply you with elements of support and luxury each and every day, the Luxe Hair Set is the perfect gift for you or a loved one that deserves the world and more.
Inside the Luxe Hair Set, you'll find the following sensational products:
Replenishing Moisture CC Cream
Multiplying Volume Mist
Chelsea King Silk Tweed Scrunchie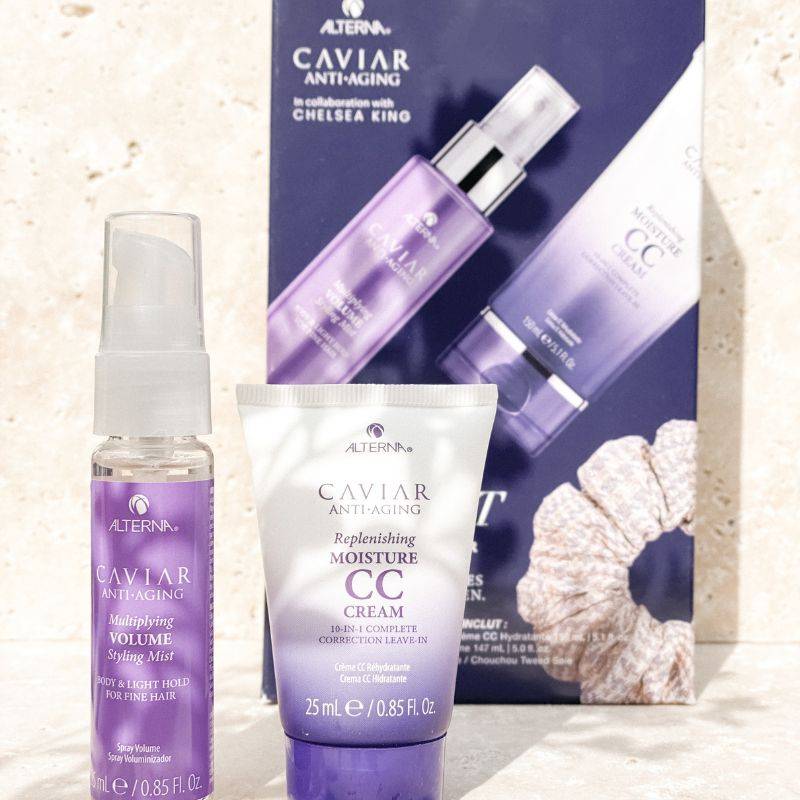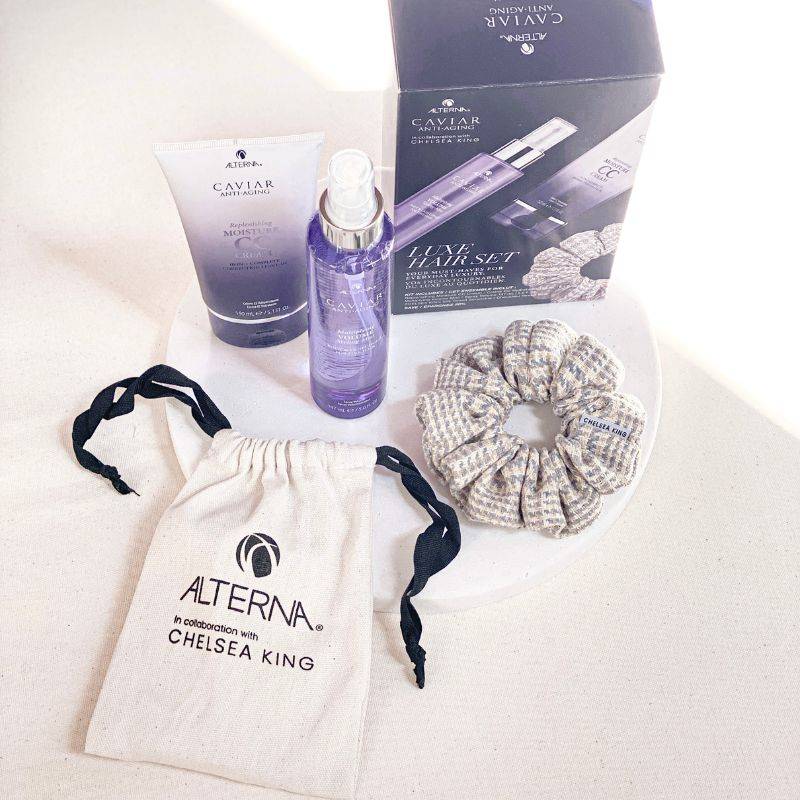 Helping you save more than 20% on these enriching products, this set is a wonderful way to engage in a daily ritual you look forward to. Created with an emphasis on anti-ageing, these metamorphic products help preserve the health of your hair while delivering countless benefits.
The Replenishing Moisture CC Cream is a groundbreaking leave-in treatment packed with 10 benefits in one simple application. Ideal for straight, wavy, curly, coiled or tightly coiled hair, the Replenishing Moisture CC Cream delivers shine, smoothness, softness, anti-breakage, heat protection, light hold, UV color protection, manageability and strength all in one single product.
The Multiplying Volume Mist by Alterna solidifies the importance of having fun with your hair while keeping it protected at the same time. This revolutionary formula helps your hair look more full and voluminous while nourishing and protecting your strands. It's the quintessential product for people looking to add a bit of vavoom to their hair without causing damage.
And let's not forget the Chelsea King silk tweed scrunchie! Crafted for impeccable hold while avoiding common issues such as breakage or headaches, this scrunchie looks great as part of a ponytail, braid or any other look you can imagine. It's the cherry on top of this exhilarating luxury hair set.
But these products go a step further than just helping your hair look and feel great. The Replenishing Moisture CC Cream, Multiplying Volume Mist and Silk Tweed Scrunchie form part of a transformational moment where you pause and focus on yourself. It helps contribute to a daily sacred ritual where you pause and prioritize your own well-being. It helps lend a little bit of grandeur to your everyday life.
Active Hair Kit - My Hair My Canvas
The Active Hair Kit was developed for people looking for worry-free hair care products for both on and off-wash days. Designed to nourish your strands each day of the week, the Active Hair Kit is suitable even for the busiest of people who lead active and energetic lives.
Containing the New Beginnings Exfoliating Cleanser, Meltaway No Rinse Micellar Cleanser and the Chelsea King Active Scrunchie, this hair kit is an essential component for busy women on the go. Being active doesn't mean you have to compromise on self-care. The Active Hair Kit is here to help you slow down, unwind and replenish your strands every day, no matter how busy you are!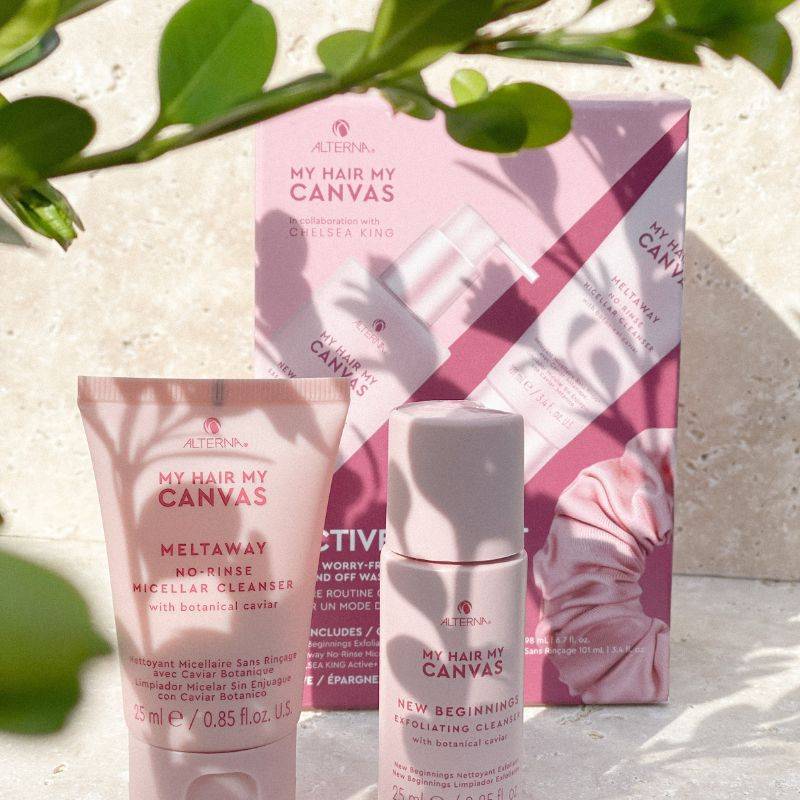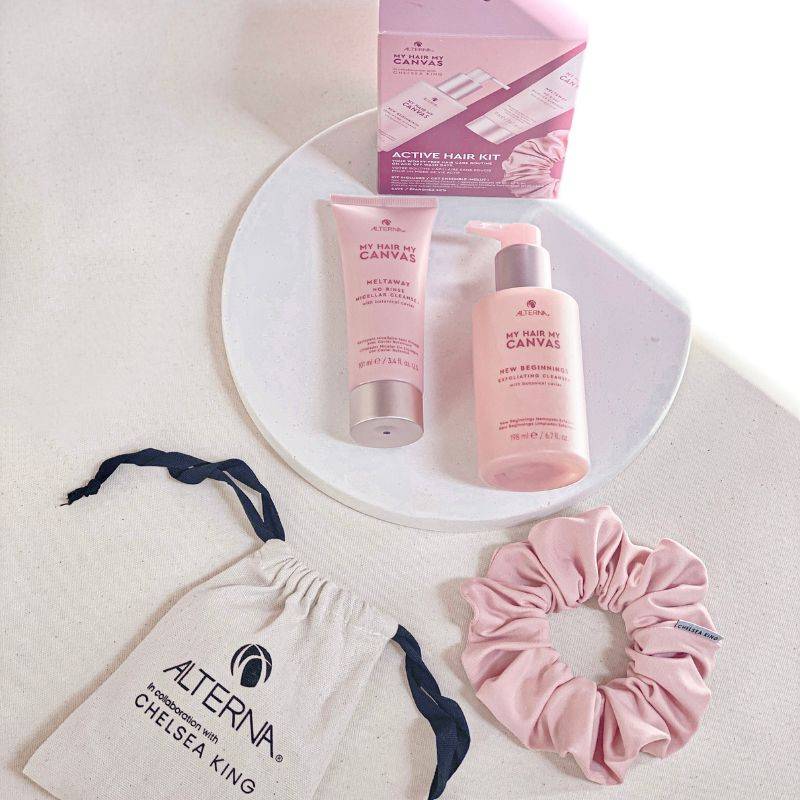 The New Beginnings Exfoliating Cleanser is a mild, vegan exfoliating cleanser that gently removes impurities and build-up from the hair without compromising on color. Suitable for most hair types, this is a vital product for busy women who exercise, use lots of styling products or just want to wash off the grime and dirt as and when needed.
The Meltway No-Rinse Micellar Hair Cleanser is a vegan crème-to-powder no-rinse micellar hair cleanser that helps absorb oil and sweat. Great for helping your hair feel shower clean, this no-rinse product can instantly leave you feeling brand new even when you don't have time for a shower.
And lastly, the Chelsea King Active Scrunchie ties it all off (literally!) by keeping your hair off your face for any active duties while looking fashionable and chic. Whether you're heading to the gym or just running weekday errands, this scrunchie helps your hair look polished and adorable while maintaining a strong and comfortable hold.
Get Your Alterna and Chelsea King Hair Sets Today
Everyone deserves a bit of luxury when it comes to daily rituals centred on well-being. So why not slow down and adorn your hair with transformative products that combat damage while looking and feeling your best?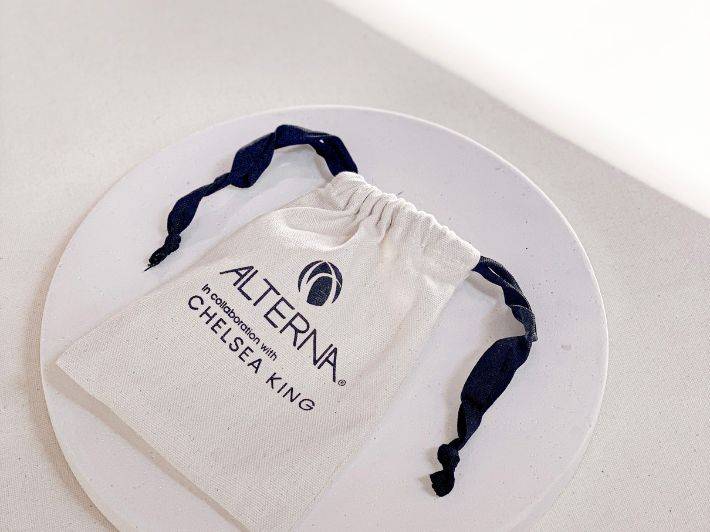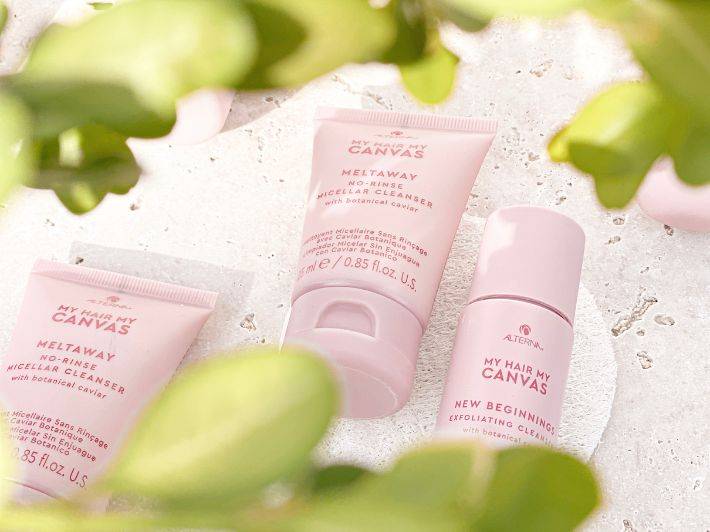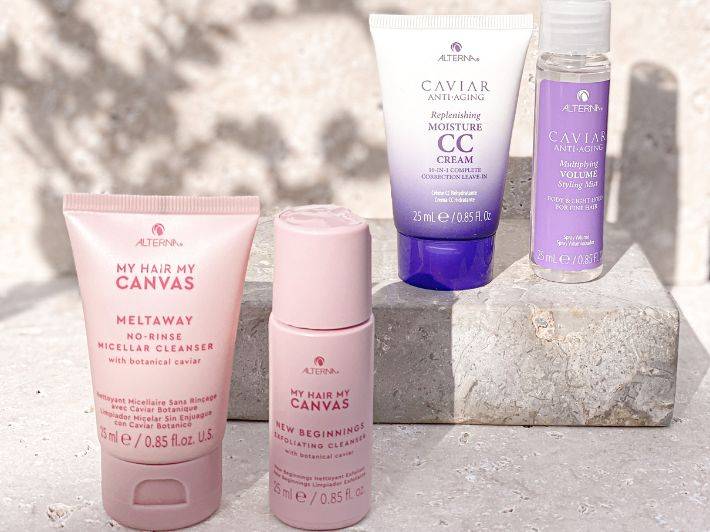 Whether you're caught up with the hustle and bustle of life and need products that suit your lifestyle or want replenishing formulas that go the extra mile, our hair kits will give you the jump-start you need to start prioritizing the most important person of all - yourself. Get yours today!
---